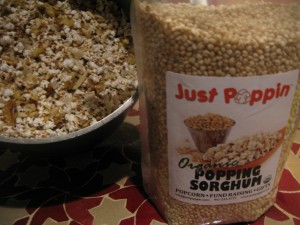 This recipe is an adaptation of a recipe submitted to one of my testers, Miranda Jade. She loved some of the holiday treats that are on sale and decided to make a slight change and come up with her own recipe. Hint: her favorite starts with the word Moose.
After a couple tries- the below simple recipe was her winner! Thanks Miranda Jade!
Ingredients:
12 oz Chocolate Chips
12 oz Caramel
½ cup nuts crushed up
Sorghum– 6cups popped
Directions:
Pop enough sorghum to fill up 6 cups.
Spread sorghum on waxed paper evenly.
Melt chocolate and drizzle evenly on top of half of the sorghum.
Melt caramel and drizzle evenly over the other half of the sorghum.
Sprinkle nuts evenly over all sorghum.
Let sorghum cool completely.
Peal sorghum off wax paper and put in a jar in hunks.
Shake jar

lightly

to mix.
Enjoy!
Again, thanks Miranda Jade.
Check out the review I did on the company Just Poppin. They have the best sorghum!
Tina Turbin
mt
From our home to yours, Tina Turbin
If you have any questions or suggestions just email me at info (at) GlutenFreeHelp.info.