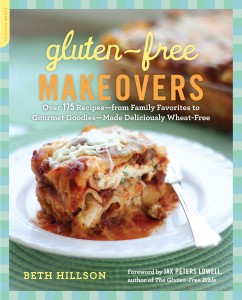 Nowadays, it's pretty easy to come by gluten-free cookbooks. The question becomes, How do you know which one is right for you?
Beth Hillson isn't any ordinary writer. Being the founder of Gluten-Free Pantry, the president of the American Celiac Disease Alliance, and the food editor of Living Without magazine, I knew I could learn a lot from her. Beth was diagnosed with celiac disease in 1953 and then again in 1976. Beth decided to get educated on the subject of celiac disease and eating gluten-free. She felt she had no choice but to get educated if she didn't want to eat just baked potatoes and bun-less burgers for the rest of her life. Beth went to culinary school to understand how food is prepared and how to replace the gluten in recipes.
Beth's decision to get so well-informed worked to all our benefit. With her website GlutenFreeMakeovers.com, she is constantly using the information she has collected over the years to help as many people as she can transition to a stress-free, gluten-free lifestyle.
In 2011 Beth published her first gluten-free cookbook, Gluten-Free Makeovers. From croissants to stir-fried chicken, this cookbook has a meal for everyone. There are so many things that you cannot eat when you are off gluten. This cookbook not only gives you delicious recipes for those items; it also is as easy to read as it is to follow. Beth includes many tips she has come across from trial and error in gluten-free cooking and baking. Anyone who cooks knows how valuable tips like these are. Beth saves you the aggravating time in the kitchen and makes being gluten-free much more fun.
Being diagnosed with celiac disease myself, I know how much of a struggle it can be to know who to ask advice from and where to get information. Beth isn't just a diagnosed celiac who has gone through hell and back, she is also a thriving author, researcher and humanitarian who hasn't let celiac disease control her life. I cannot think of a better person to help anyone on their road to eliminating gluten 100% from their life.
One thing I found really amazing about the Gluten-Free Makeovers cookbook was how extensive it is. It's 260 pages of recipes and that doesn't even include the resources, easy-to-use index and other information Beth includes in the book.
Here is one of my favorite recipes from Gluten-Free Makeovers:
Chocolate Angel Food Cake ( gluten-free, dairy-free):
1 cup Cake and Pastry Flour ( see below)
5 tbs unsweetended cocoa powder
1 ½ cups sugar
12 large egg whites at room temp
1 ½ tsp vanilla extract
1 ½ tsp cream of tartar
¼ tsp salt
Cake and pastry flour:
1 cup sweet white sorghum flour (4 ounces)
1 cup white rice flour (5.4 ounces)
¾ cup cornstarch (3.4 ounces)
1½ teaspoons xanthan gum (or guar gum)
½ teaspoon salt
Directions:
Preheat the oven to 375°F.
Sift the flour cocoa powder and 3/4 c of the sugar into a bowl. set aside
Beat the egg whites at low speed in a large mixing bowl until foamy, about 5 min. Add the vanilla, cream of tartar and salt. With the mixer on medium speed, add the remaining 3/4 c sugar in a slow, steady stream. Beat an additional 5 to 7 minutes, until the whites are shiny and form stiff peaks.
Sift one third of the dry ingredients over the egg whites and gently fold in with a rubber spatula. Repeat until all the flour mixture has been incorporated. Scrape the batter into an ungreased non-stick aluminum 10-inch tube pan. Smooth the top and gently tap the pan onto the counter to remove any air pockets.
Bake 40 to 45 min, until tiny cracks appear on the top and the cake springs back to the touch. Invertthe pan onto a wire rack if the pan has feet pt invert the center tube of the pan onto the neck of bottle to cool completely.
To unmold, run a think knife around the side of the pan and the tube and gently push the base up if using a two piece pan or invert the cake onto a serving plate.
Nots:
You can also make cupcakes with this mix. Try topping the cake with fresh strawberries and frosting! Yum!
Enjoy!
Miranda Jade Turbin
From our home to yours, Tina Turbin
If you have any questions or suggestions just email me at info (at) GlutenFreeHelp.info.