Riega Foods has four new amazing cheese sauces I had to share with you. Kids and adults alike love them. Not only are they tested to ensure they contain less than 20 ppm of gluten, but they come in four flavors and in easy-to-make packs: Yellow Cheddar, White Cheddar, Pepper Jack, and Alfredo.
Each individual pack makes a delicious cheese sauce for your meal. A delicious sauce, as we all know, depends on its thickness and flavor. To make a thick, creamy cheese sauce without lumps, without it tasting dry, and without it tasting like rice flour can be a challenge for many gluten-free cooks. Most good cheese sauces have wheat thickeners in them. For us celiacs, those days of gluten-containing sauces are long gone, but taste and texture are NOT, thanks to Riega Foods. They make cheese sauces that taste amazing and with a thickness that coats your dishes perfectly. We really love them.
One of my testers made a unique chicken alfredo dish with blackened chicken using the Alfredo Cheese Sauce. She followed the easy directions and was thrilled with the outcome. She reported that although the pack looked small, it yielded a lot of sauce. Just one pack of the Alfredo Cheese Sauce covered enough to feed herself, her husband, and their two hungry, grown boys.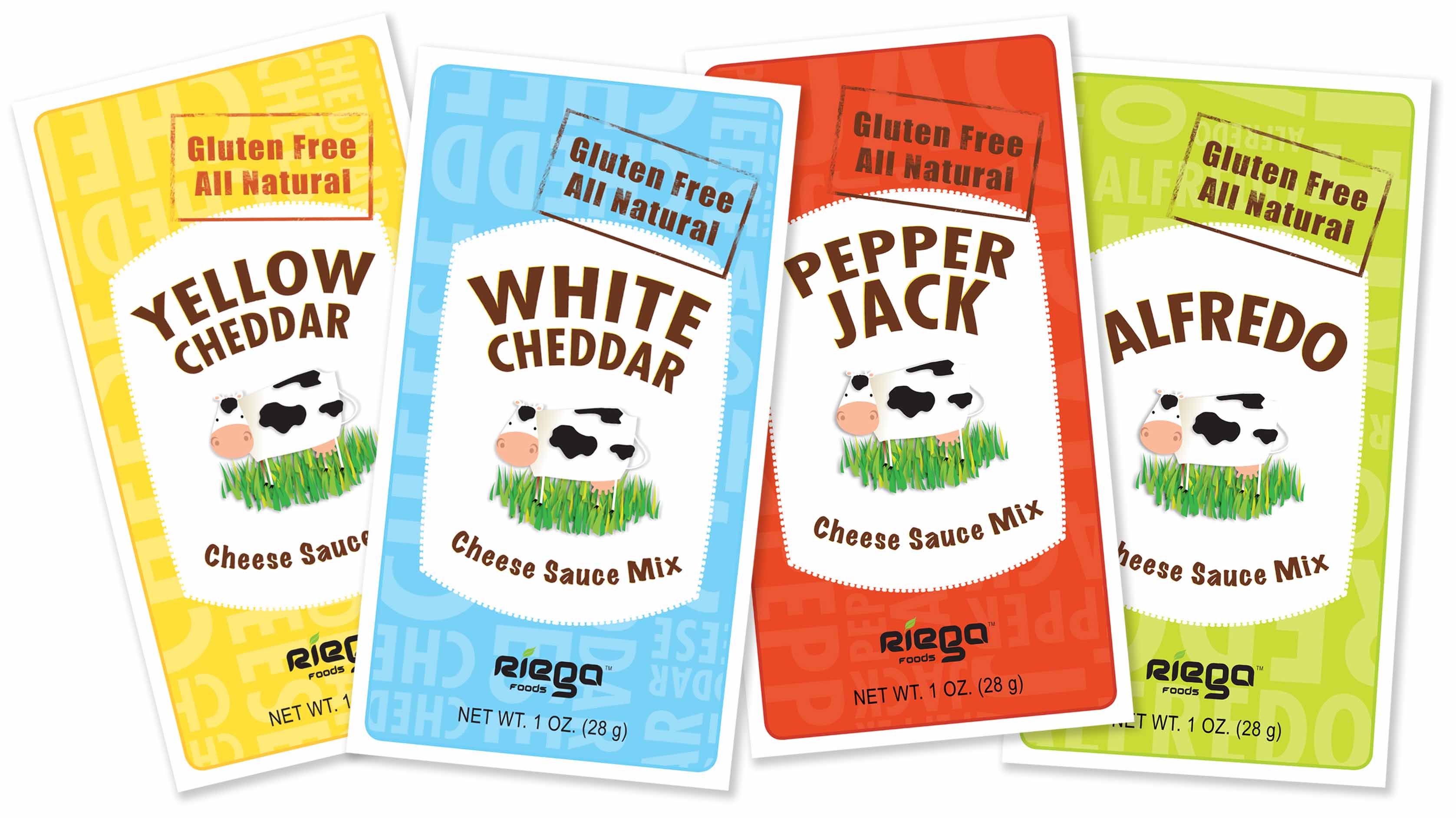 Another test was to sprinkle the White Cheddar Cheese Sauce on top of popcorn. It was gobbled up quickly before we even had a chance to take notes. We all loved the light flavor, and it complemented the popcorn perfectly.
Gluten-free "cheese-oholics," this is the product you've been waiting for. The Yellow Cheddar is perfect for homemade macaroni and cheese. Each cheese sauce is packaged individually for one meal so it makes for easy storage.
I have to admit, I was skeptical. Is this going to be another pack we add water to with a "compromised" flavor for us celiacs? I wondered. NO, it was not. It truly went beyond our expectations, and we are highly recommending it to anyone who enjoys a true cheesy flavor.
One last note: there are a number of ways to use these packs. I always welcome your ideas to share with my readers. So do try them out and send in your recipes too.
Miranda Jade Turbin
From our home to yours, Tina Turbin
If you have any questions or suggestions just email me at info (at) GlutenFreeHelp.info.