Print
Gluten Free Turkey Breast in a Crock Pot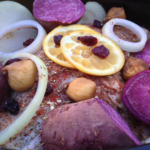 ½

turkey breast, bone-in (approx.

3

pounds)

2

–

3

purple sweet potatoes

2

medium sized white onions

1 cup

small organic Calimyrna figs (or black figs if you wish)

½ cup

dried sugar-free Bing cherries

½ cup

dried sugar-free cranberries (sweetened with fruit juice is the best if you can get them)

1 tablespoon

each of salt, fresh ground pepper, onion powder, garlic powder, parsley flakes, thyme, sage and paprika

1/3 cup

water
Wash and dry your breast.
Do not mix the seasonings and herbs.
Cut your sweet potatoes into large 2-3 inch hunks and set aside.
Slice your onions so you have "circles" and set aside.
Measure out your dried fruits so they are all nice and ready to sprinkle on your bird as the last step.
Pour 1/3 cup of water in the bottom of the crock pot.
Sprinkle the entire bird liberally with the salt, freshly ground black pepper, onion powder, garlic powder, parsley flakes, thyme, sage and paprika.
Place ¼ of the onions, and ¼ of the dried fruits on the bottom of the crock in the water.
Add your breast (seasoned on all sides).
Add onions and potatoes and pack them all in there with no rhyme or reason.
Sprinkle the remaining figs, then cherries and cranberries.
Add more cracked pepper and salt if you wish.
Cover with lid and ensure it is closely snug. Cook on low for 8-9 hours.
Remove and serve on a large platter. Place all your items on the platter as you desire to make the most beautiful center piece you could ever imagine.
Take the liquid in the crock and place into a small gravy boat OR serve on top of everyone's portion as a host offering.
Enjoy!