Mom and pop companies always have a special place in my heart. When Grandpa's Gluten-Free Gourmet first contacted me I was curious to try their encrusting for more than one reason. I hadn't had good gluten-free fried chicken in what felt like eons. With a busy schedule like mine I don't have nearly enough time to cook anything but simple and quick chicken and veggie type dishes.
There is a very homey feeling that comes with anything breaded or fried. Comfort food at it's finest. Comfort food comes with a potential downside though. We normally regret it the next day if not an hour afterward.  The point that stood out the most for me , setting Grandpa's Gluten-Free Gourmet apart from other encrusting ,was how good I felt after eating it and how it didn't give me that lethargic food-coma feeling. I have not even mentioned how darn good it tasted. This took my bland and somewhat "usual" chicken to a whole new level. That first bite, the crunch, those spices, the flavor, oh my it is all coming back! They all worked in perfect tandem. While preparing this the encrusting didn't burn one bit. This was a real surprise.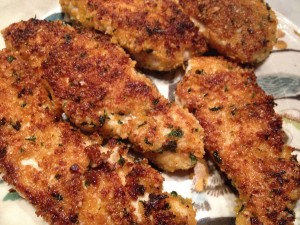 I then used Grandpa's Gluten-Free Gourmet encrusting for a dinner party. Nobody besides me was on a gluten-free diets or celiac yet they all loved the flavor and texture. In fact, everyone was extremely surprised my dish was gluten-free. Not a single piece was left at the end of the night.
The idea behind the company was to create a product that was gluten-free that was so good non "g-fers" would use it. This would then allow us all to eat together and not have to use "special" products when dealing with a group or dinner for celiacs and non-celiacs. I think they did just that.
One can use the gluten-free breadcrumbs on just about anything. Veggies, chicken, fish, etc. This is the perfect product for getting your young celiacs to eat their protein. Just cut your chicken breast into strips, dip them in melted butter, then a nice coating of Grandpa's Gluten-Free Gourmet and prepare in  your pan or in the oven and your kids will be asking for seconds. You can  get quite creative with this product and add your own spices too.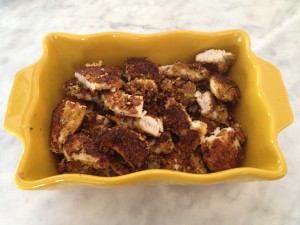 I totally intend to use this product in the future and keep it in stock in my pantry. Grandpa's Gluten-Free Gourmet has a new product in the making that is dairy-free and vegan.  I'm sure that one will be a huge hit as well.
You can order this wonderful product through their website or Amazon. If you happen to live in Minnesota you can visit Tailor Made Nutrition where you can purchase Grandpa's Gluten-Free Gourmet directly.
What isn't there to love about a gluten-free, soy free, MSG free, low sodium, low sugar product that's tasty and made in the USA and makes us feel like we are biting into truly down home cooking without the guilt and distress ! Absolutely nothing. This is a total thumbs up and my testers and I can not say enough about this product.
Now, let's get frying!
Miranda Jade Turbin
From our home to yours, Tina Turbin
If you have any questions or suggestions just email me at info (at) GlutenFreeHelp.info.