Print
Grass Fed Steak Bites with a Twist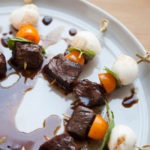 1

PRE Sirloin, room temperature

½ teaspoon

salt

1 cup

balsamic vinegar

¼ cup

honey

12

mini mozzarella balls

12

small basil leaves

6

cherry tomatoes, cut in half

12

toothpicks
Preheat cast iron skillet to medium high.
Pat steak dry.
Season with salt and oil.
Sear sirloin in pan for 4 minutes on each side for medium rare.
Rest for 5 minutes.
In small sauce pan, reduce balsamic by half.
Stir in the honey until fully combined.
Remove from heat.
Cut steak into 12 half-inch cubes.
Let marinate in balsamic while you assemble the other toothpicks.
Assemble: mozzarella, basil, tomato, marinated steak.
Drizzle skewers with some of the balsamic dressing.
Enjoy!