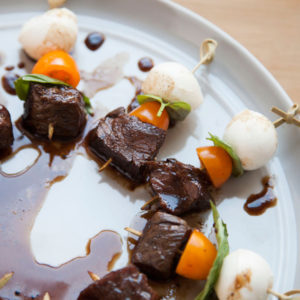 Everyone loves a good Caprese Salad. Adding PRE Brands 100% grass fed Sirloin gives it an extra dose of flavor and protein that is sure to make it a crowd pleaser. A balsamic and honey reduction also sweetens up the classic. This recipe, "Grass Fed Steak Bites with a Twist", is simple to make and sure to be a definite hit! Gluten free is a topic that is of utmost important to me and as a celiac myself, I take this topic to heart. With that said, gluten free recipes that taste delicious are a necessity.
I am so pleased to share yet another recipe using PRE Brands amazing healthy grass fed grass finished beef. PRE's chef, Sarah Russo, shares her technique for this perfect shareable appetizer that's of course a gluten free recipe! Serve it as an appetizer, an entrée or bring it to your next pot luck or barbecue to share the deliciousness.
PRE has mastered the art of bringing you the most delicious 100% grass-fed and grass-finished beef in the world, with relentless consistency. PRE is one of the industry's fastest growing beef brands and its lineup of premium 100% grass-fed and grass-finished steaks, ground beef, burger patties and roasts appeal to growing preferences for pasture-raised meat that provides the memorable eating experience you expect from your beef. I am truly hooked on their beef as one of my top sources to feed my gluten free family.
Print
Grass Fed Steak Bites with a Twist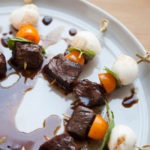 1

PRE Sirloin, room temperature

½ teaspoon

salt

1 cup

balsamic vinegar

¼ cup

honey

12

mini mozzarella balls

12

small basil leaves

6

cherry tomatoes, cut in half

12

toothpicks
Instructions
Preheat cast iron skillet to medium high.
Pat steak dry.
Season with salt and oil.
Sear sirloin in pan for 4 minutes on each side for medium rare.
Rest for 5 minutes.
In small sauce pan, reduce balsamic by half.
Stir in the honey until fully combined.
Remove from heat.
Cut steak into 12 half-inch cubes.
Let marinate in balsamic while you assemble the other toothpicks.
Assemble: mozzarella, basil, tomato, marinated steak.
Drizzle skewers with some of the balsamic dressing.
Enjoy!
From our home to yours, Tina Turbin
If you have any questions or suggestions just email me at info (at) GlutenFreeHelp.info.