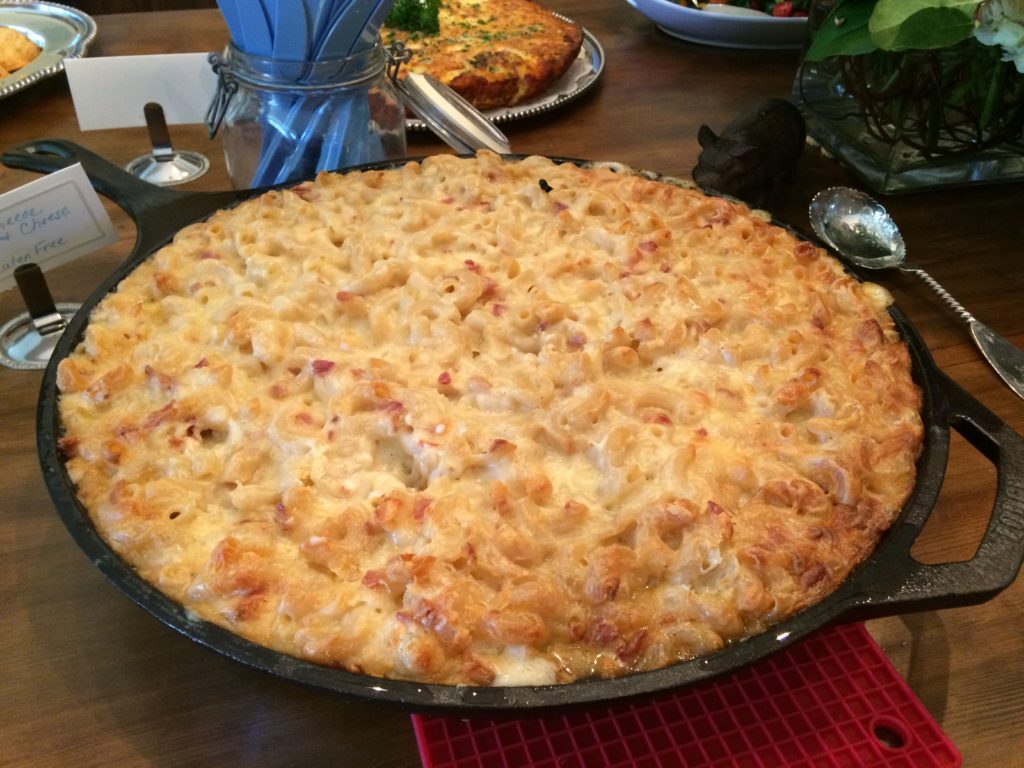 I made this incredible gluten-free macaroni and cheese for guests at my daughter's baby shower earlier this year and it was such a hit! We are making it again to commemorate that very special day using the same THREE cheeses. Most everyone attending could care less about gluten-free. My kitchen is a dedicated gluten-free kitchen though and that is how we eat, so my guests are always introduced to the surprises gluten-free truly has to offer.
I ordered two huge 24-inch cast iron pans online and decided to have the macaroni and the 2 large quiches as the focal points of the homemade comfy food and all the other goodies placed beautifully around them. It really was a hit! Since I made so much, we had leftovers that my boys loved and people asked to take home. See, gluten-free can be great and this recipe is.
I found three recipes online (you'll find the references below) and made them into one. I made changes to the types of cheese called for and incorporated my favorites. I simplified the recipe a bit and worked it out while I made it with the help of my step mom and friend Cynthia. We had a blast, while my poor daughter decorated the gluten-free "airplane and baby bottle" cookies I had made as I was running out of time. Thanks again Miranda. J
The shower was a hit and I felt like I was looking at a slew of models. Jeez, all her friends are stunning and just such sweet young ladies.
Well it's been awhile since then and now I am blessed with this amazing little grandbaby: Brixton Timothy Terry. He is also gluten-free and so far grain-free like the majority of my family
(Paleo). He constantly reminds me of time passing before my eyes as he grows leaps and bounds in body and spirit.
I was inspired by the below recipes to create my gluten-free recipe and I simplified what I could:
http://www.foodnetwork.com/recipes/3-cheese-macaroni-and-cheese-recipe.html
http://www.foodnetwork.com/recipes/ree-drummond/mac-and-four-cheeses.html
http://www.cookingchanneltv.com/recipes/aunt-chelles-three-cheese-macaroni-and-cheese.html
You're also welcome to try my delicious grain-free version of this same recipe using cauliflower instead of pasta!
Ingredients
1lb package of gluten-free elbow macaroni (I used rice macaroni)
1/4 pound bacon, diced
1 medium onion, diced
1 tablespoons salt (for water)
6 tablespoons unsalted butter, plus more to butter baking dish
2-3 tablespoons tapioca flour or corn starch
1 tablespoon dry mustard
3 cups whole milk
1 cup heavy cream
2 tablespoons fresh cracked pepper
1 pound sharp white cheddar
6 ounces fontina
4 ounces asiago
Optional for topping:
3 tablespoons chopped Italian parsley
2 tablespoons chopped scallions
2 cups gluten-free bread crumbs
Directions
1.Preheat oven to 325F.
2. Butter a 9 x 13 inch glass baking dish.
3. Grate all your cheeses.
4. Bring a large pot of water to a boil and add salt.
5. Cook macaroni until al dente (not until thoroughly cooked).
6. Drain, rinse well and set aside.
7. In a large heavy pot, sauté the bacon until crisp.
8. Remove bacon and place on paper towel.
9. Sauté the onion in the bacon drippings until soft.
10. Add the 5 tablespoons butter to the onion mixture.
11. Melt the butter stirring with a wooden spoon.
12. Using a whisk, add the corn starch or tapioca flour a LITTLE AT A TIME, and stir constantly until well mixed with the fat, making a roux. (It will bubble.)
13. Whisk in the dry mustard.
14. Very slowly add the milk and cream but you must whisk constantly.
15. Let come to a simmer and stir frequently for 15 minutes.
16. Strain the hot milk mixture into a metal bowl and discard the solids/onion.
17. Place mix back in the large heavy pot right away.
18. Immediately mix in all the grated cheeses and pepper.
19. Mix.
20. Continue to stir until all cheese is melted on stove.
21. Remove from heat.
22. Add the cooked gluten-free noodles to the cheese mixture to coat.
23. Place the noodle mixture in the prepared baking dish. (See my optional step below.)
24. Place dish in middle of oven.
25. Bake for 10-15 minutes – I like mine HOT!
26. Remove from oven when done and rest for 5 minutes.
27 Garnish with parsley or chopped scallions now or before the last 5 minutes of baking
28. OPTIONAL STEP: Mix gluten-free bread crumbs together with some parsley and sprinkle on top of the noodles.
29. Bake for about 15 to 20 more minutes.
30. Enjoy!
From our home to yours, Tina Turbin
If you have any questions or suggestions just email me at info (at) GlutenFreeHelp.info.