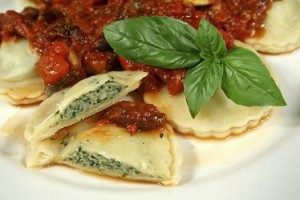 Ah, the age-old question: "How do I eat gluten-free on a budget?" Making the commitment to eating gluten-free and healthy has its financial challenges. Luckily, these days "gluten-free" is a household term, and with more and more Americans growing health-conscious, there are lots of budget-friendly gluten-free (and healthy) foods out there. Here are some of the ways our family saves money on our gluten-free diet:
Cut Out Processed Foods
If you're looking for gluten-free alternatives to cereals, pasta, crackers, and other processed foods, be prepared to spend more. But there are other gluten-free alternatives to these common processed favorites – naturally gluten-free WHOLE foods. Instead of cereal, why not sprinkle some nuts over coconut yogurt for breakfast? Forget about crackers and chips – bake some kale chips for a fraction of the price yourself. (It's actually super easy.) And instead of pasta, which is often made with rice, corn, or other ingredients that can still cause problems for people, opt for spaghetti squash or zucchini noodles.
Warehouse Clubs
Consider becoming a member of Costco, Sam's Club, or another warehouse club. Not only can you save on gluten-free food by buying in bulk, but you also can save on diapers, clothes, books, vacation gear, and other family musts. Sometimes it's nice to just push your gigantic cart through the colossal aisles and browse. You'll be amazed at what you can find!
Costco has a wide selection of organic foods and products these days. This includes lots of gluten-free choices. In fact, they recently grossed more than $4 million in annual sales from organic produce – that's more than Whole Foods! And lest they run out of organic produce to satisfy their growing number of health-conscious warehouse members, Costco is now lending money to farmers to enable them to grow more organic produce. How cool is that?
Prioritize Food in Your Budget
Did you know that Americans spend less on food as a percentage of their income compared to any other country in the world? In a study conducted in 2009, the average U.S. household spent 6% of their income on food, whereas in the U.K., this figure was 9%, and in France 14%. (So the next time you salivate enviously over the culinary delights of the French, remember that they spend over twice what Americans spend on average!)
Eating healthy is an important long-term commitment that will benefit you and your family in many ways and for many years to come. And like all precious things in life, it may come with a higher price tag. In the end, I think it's worth it to spend more on food and feel energized, have fewer health problems in the long run, and watch my children thrive.
No matter how well you budget, in the end, a healthier diet is going to cost more than a standard American diet consisting of fast food and other cheap, processed foods. Times are a-changing though, and more and more budget-friendly, gluten-free, healthy options are becoming readily available. Do your due diligence and stick to a whole food diet as much as possible, and you'll be able to make it work.
Sources:
http://www.motherjones.com/blue-marble/2012/01/america-food-spending-less
http://www.huffingtonpost.com/entry/costco-organic-produce-farmers-partnership_us_570d0a80e4b01422324a1f6c
From our home to yours, Tina Turbin
If you have any questions or suggestions just email me at info (at) GlutenFreeHelp.info.