We have all had that dreaded mucus. Especially those who are celiac. It is a pain! Sleep is harder, allergies get way worse and constantly having to clear your throat is not fun. The question stands, how to get rid of mucus?
Although there are environmental reasons for mucus, it is important to avoid the foods that cause them so it doesn't get worse. It is also important to know what foods help to get rid of mucus so if you are ever in a bind and just cannot get relief you know how to help yourself. If you are reading this then it is highly likely you are already off of gluten. this is a good start but there are many other foods that can cause mucus.
You will notice ghee on the chart below. This is because many ghees still have casein and lactose in them. Pure Indian Foods is the one I buy and trust as it is tested to have extremely low lactose and casein.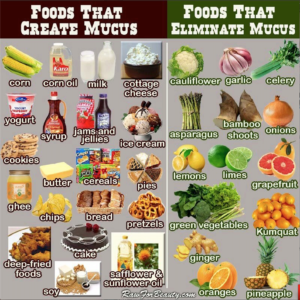 From our home to yours, Tina Turbin
If you have any questions or suggestions just email me at info (at) GlutenFreeHelp.info.