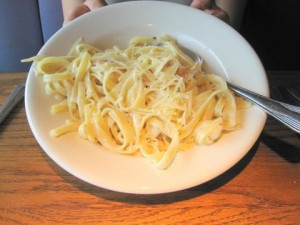 If you like Italian food then I am sure you will love this recipe. You can use my pesto sauce for pasta as well or any other sauce you like.
INGREDIENTS
8 oz. uncooked GF fettuccini, broken in half
1 c frozen peas
6 slices bacon
6 garlic cloves, peeled, thinly sliced
½ c diced onion
2 c sliced cooked chicken
1 c half and half
2 oz grated smoked Provolone cheese
½ tsp coarsely ground black pepper
¼ tsp salt
2 tbsp snipped fresh parsley
DIRECTIONS
1. Cook the pasta according to the package directions. Add peas. Drain.
2. Cut bacon into 1/2-in. pieces. Cook bacon in a 12-in/30-cm skillet over medium heat for 8-10 minutes or until bacon is crispy, then drain on paper towels. Drain the grease from the skillet, but don't wipe it out.
3. Add garlic and onion to skillet. Cook over medium heat 2-3 minutes or until tender. Add pasta, peas, bacon, chicken, half and half, cheese, black pepper and salt to skillet. Toss well to coat. Cook over medium heat 8-10 minutes or until sauce is slightly thickened and the food is hot.
4. Sprinkle with parsley and serve immediately.
Enjoy!
Miranda Jade Turbin
From our home to yours, Tina Turbin
If you have any questions or suggestions just email me at info (at) GlutenFreeHelp.info.