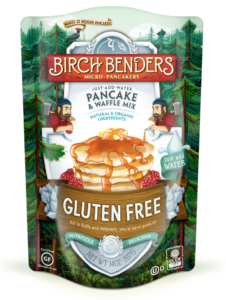 Traveling with a celiac and gluten-free household or individual can have its challenges. Although gluten-free products are much easier to find these days I always try to pack my tried and true snacks I know will will be appreciated, consumed and that certainly pack and travel well. I knew without a doubt I had to pack my Birch Benders Gluten-free Pancake mix because it is delicious and so easy! Everything that is needed is already in the mix! All you do is add water. (Or you can make it my method, which I detail below.) This is great for anyone with an egg allergy too as you don't need to substitute anything.
Recently I traveled to Maui with my husband and my son. We stayed at a nice resort with a full kitchen so I was able to cook and prepare plenty treats and meals. This is where Birch Benders came in, or rather, saved the day.
Yes, making things from scratch is fun and rewarding  but having things on hand that are quick and easy is a must, especially for those busy moms or dads. Things that stand out to me about Birch Bender's Gluten-Free Mix: Certified gluten-free! Certified organic and non-GMO! Made in the US, soy free, tastes great, quick and easy to make and the list goes on. They should be proud about creating such a healthy gluten-free product as I am honored to share this with you.
I like switching things up a bit and because I am a cook and baker it is fun to add ingredients to products I test. I decided to make a higher protein version of this and list the steps at the bottom of this review. They turned out great. Nice and fluffy and instead of 8 grams of protein in my whole batch I now had 14 grams. Not a bad upgrade!
This mix also works great following the directions for waffles and I liked adding a few blueberries to each pancake because my son goes crazy for blueberries. You really can't go wrong with this mix. Near impossible to make a mistake.
Birch Benders make a whole slew of different pancake mixes from gluten-free to paleo to double chocolate peppermint ( has wheat in it). Their bags make around 20-25 pancakes, the price is really reasonable and they have a great shelf life. They have many positive points I am just thrilled about.
Try them out either my way or by just adding water and see what you think. Maybe try adding some chocolate chips… yum!
My protein version for make the 6-7 4" pancakes:
Ingredients:
1 cup of the gluten-free mix
1 egg
½ cup of water
1 cap of apple cider vinegar.
Directions:
Heat up pan so it is ready to go and grease with coconut oil or butter.
Mix up the pancake mix, egg and water well.
Add in the apple cider vinegar and incorporate it quickly.
Pour 4″ pancakes into your pan and enjoy!
From our home to yours, Tina Turbin
If you have any questions or suggestions just email me at info (at) GlutenFreeHelp.info.