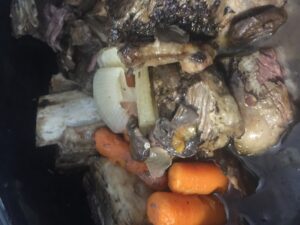 The Crock Pot is by far my most prized kitchen item. I am not sure if I could live without it. You can make just about anything in it and go about your day without having to worry about it. I saw some beef short ribs at the store on Monday while shopping and figured they would be perfect for some crockpot short ribs.
There really is no wrong way to do this recipe. You can add additional spices to it, other veggies, etc. I tend to keep my recipes quite simple and then build on them depending on my mood. This recipe uses white wine but the alcohol cooks out of it so don't worry, you won't get drunk from it.
There are many recipes for short ribs that are much heavier than this one. Lots with a bbq feel or thick red wine sauce. I try not to make super heavy crock pot dishes because I always make extra food and a heavy meal followed by heavy leftovers can be too much sometimes.
Cooking in the crockpot really keeps the meat moist and it just falls off the bone. My favorite! Pair this with a delicious gluten-free dessert or a nice salad.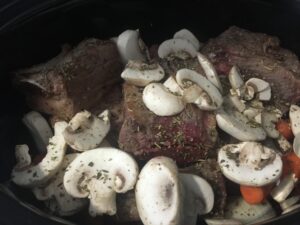 Ingredients:
8 short ribs
1 ½ cups of Pinot Grigio ( or other dry white wine)
4-5 small red potatoes
2 carrots cut into 2 inch chunks
½ yellow onion sliced into chunks
5 mushrooms cut into pieces
4 garlic cloves crushed
Dried Rosemary
Salt and Pepper
Directions:
Salt and pepper the meat.
Heat a pan on medium heat and brown each side.
Remove from pan and place into crock pot.
Add in all of the vegitables.
Add in the wine and spices.
Cook on low heat for 8-10 hours.
You will know the meat is done when it falls apart easily.
You can use the liquid for soups, make gravy with it or just toss it out.
Serve meat and veggies on it's own, with rice or some homemade mashed potatoes.
From our home to yours, Tina Turbin
If you have any questions or suggestions just email me at info (at) GlutenFreeHelp.info.