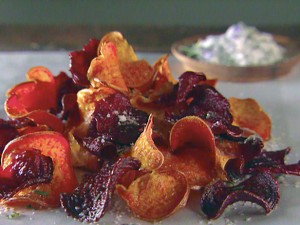 This is a yummy snack all on its own or served with your favorite fish for "fish and chips" with a twist! This dish make a healthy appetizer if you use them to dip into fresh soup.
INGREDIENTS
2 (8-oz.) garnet yams or sweet potatoes, halved lengthwise, cut into 3/4-inch-wide wedges
2 tbsp ghee or unsalted butter, melted
1 tsp garam masala
¼ tsp each coarse sea salt and freshly ground black pepper
Olive oil for brushing
DIRECTIONS
1. Place yam wedges skin side down on a large microwave-safe plate. Cover with vented plastic wrap. Microwave on high 3 ½-4 mins, or until almost tender. Let cool.
2. Heat an outdoor gas grill, or prepare coals for a charcoal grill for direct grilling over medium-high heat. Add yam wedges.
3. Grill yams, keeping the grill lid closed as much as possible, until lightly charred, 6 to 8 mins, turning as they brown.
Serve with a delicious sauce or condiment of choice!
From our home to yours, Tina Turbin
If you have any questions or suggestions just email me at info (at) GlutenFreeHelp.info.