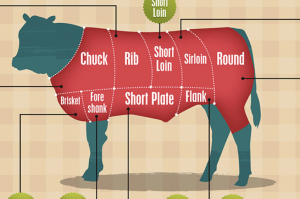 Chuck, rib, round, tenderloin. Where do we start? What is best BBQed? What is the cheapest? Cows are very large animals. It can feel daunting to try and figure out which kind of meat to buy for which gluten free meal.
Although I do not eat beef daily, I do enjoy a good steak here and there and my family just drools whenever I use my crock pot for any beef dish.
I hope this guide helps you as much as it has helped me. Thanks to Visual.ly for this amazing guide.
Remember to always sear your beef so it is nice and crispy on both sides and then cook throughout on a lower temp. This will ensure your meat is nice and juicy!
From our home to yours, Tina Turbin
If you have any questions or suggestions just email me at info (at) GlutenFreeHelp.info.