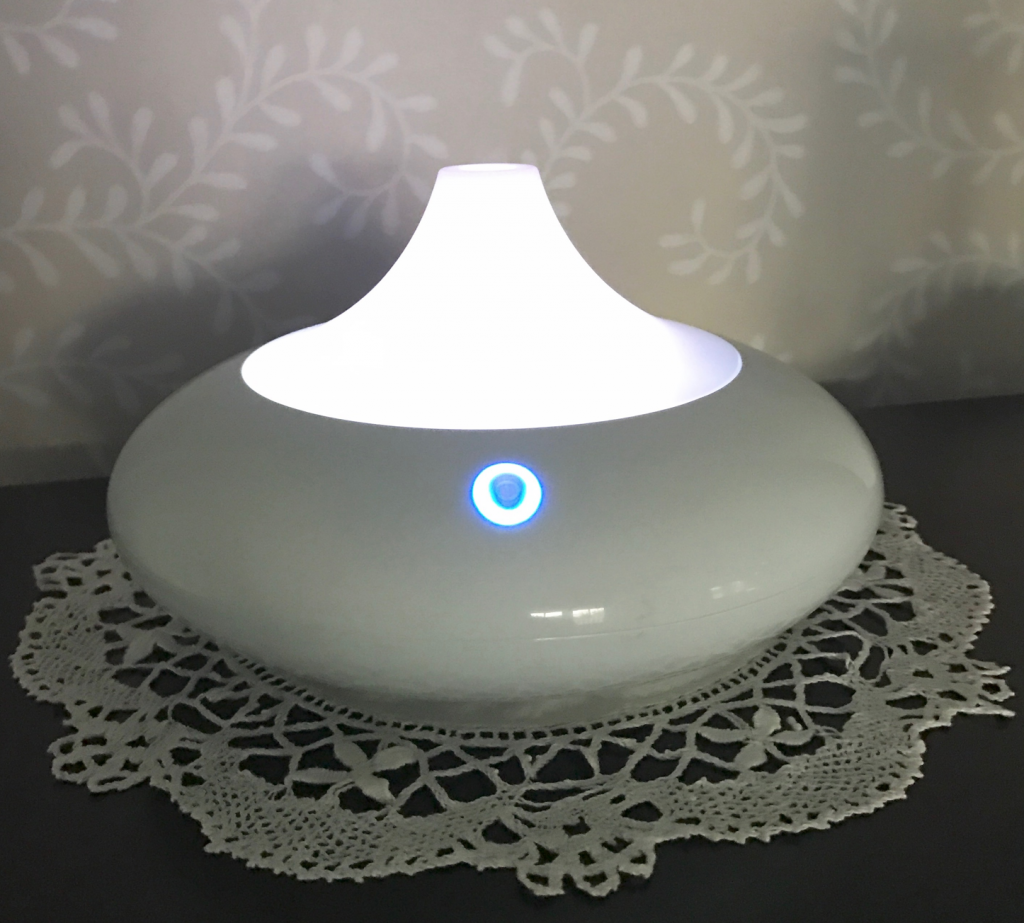 Aromatherapy has been around for many years, but it seems like it's really catching on these days. This is great news for families, who otherwise may turn to unnatural, toxic air freshening sprays to deodorize their home. Essential oils not only fill your home with sweet-smelling, long-lasting fragrances, but they actually disinfect the air, effectively killing bacteria, mold, and other unwanted elements – plus, they can have health and mood-boosting benefits.
What kind of diffuser should I get?
There are several types of essential oil diffusers out there. Everybody has their own preferences, so it really depends on what works for your family. The main diffusers out there are nebulizer diffusers, ultrasonic or humidifying diffusers, heat diffusers, and evaporative diffusers. Each one has their pros and cons, and you can research them in depth online. My friends and I tend to like ultrasonic diffusers, which are relatively inexpensive and double as a humidifier – perfect for when the kiddos are congested or sick. Some light up and can double as night light – another bonus for your youngins.
Which oils should I use?
There are so many essentials oils out there, and it may take some time to try them all and see which ones work for you, but it's well worth the process! Essential oils can also be paired or mixed together.
For relaxation and bedtime, I recommend lavender and wild orange blended together. This can get kids in the mood for bedtime and promote a deep, restful sleep. During flu season, I recommend running your diffuser non-stop with tea tree oil, eucalyptus oil, and lemon oil. Diffuser recipes abound! Search online or make up your own using your favorite finds.
Other indoor air freshening ideas
There are other natural solutions for freshening and detoxifying indoor air that you can use in addition to your essential oil diffuser, such as indoor plants, Himalayan salt lamps, and charcoal bags, all of which you can find easily online or at your local health food store. They aren't fragrant like essential oils, but they have shown to be an effective way to combat air toxins. By combining all these solutions together, your indoor air quality should noticeably improve.
Create your own essential oil recipes
There are many essential oil "recipe" ideas online. Take time to search for some and experiment with your own blends. Encourage your kids to create their own signature blends for various purposes or to create particular moods. For instance, you can create a "wake up" recipe if it's hard to get them out of bed in the mornings, or a "settling down" blend for pre-bedtime relaxing. Be sure to share your favorites below in the comments section!
Sources:
http://wellnessmama.com/23343/essential-oil-diffuser-review/
From our home to yours, Tina Turbin
If you have any questions or suggestions just email me at info (at) GlutenFreeHelp.info.