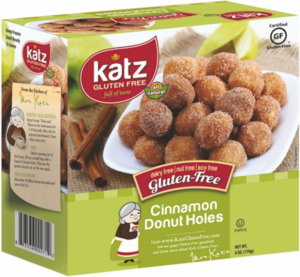 As I said previously, it had been a while since we had reviewed Katz products and they have come a long long way. There were so many products I had to separate this review into 3 different parts. I will call this, pt 2, the dessert review.
My long time favorite product of Katz as a kid was their glazed doughnuts. To be deprived of doughnuts at such a young age was not fun. When my mom found Katz glazed doughnuts it was as if my whole year was looking up. I decided to try something new as I already knew I loved Katz glazed doughnuts. I went for their doughnut holes and pumpkin doughnuts. I specifically went for these as I have had gluten-free doughnut holes in the past and they were extremely dry and I have never been a fan of pumpkin anything. I wanted to challenge Katz.
The doughnut holes were just as fluffy as their doughnuts. My only problem was trying not to eat too many. There is something about small items that makes it much easier to justify an abundance of them. Perfect bite sized holes. I ate them directly from the freezer and thawed out. I liked them both ways. I even let my son try them as he had never tried a doughnut before (he is only 20 months old). I have never seen his eyes get so big. Needless to say, he is a fan just like his mamma.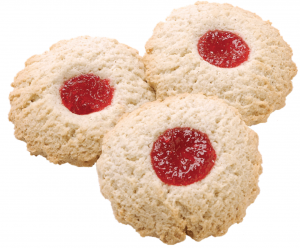 The pumpkin doughnuts were actually quite good. I have never been a fan of pumpkin pie or anything pumpkin flavored so I was pleasantly surprised by them. The plain glazed ones are still my favorite but anyone who likes more flavored doughnuts would definitely like these.
The raspberry tart cookies went perfectly with my morning coffee. Not too sweet and a great balance of flavors of the buttery cookie and fruity center. They remind me of those raspberry cookies I used to find in those cookie tins during the holidays.
It is getting close to Hanukkah so I knew I had to try the rugelach. If you don't know what rugelach is, it is a Jewish pastry that is very popular and found in most Jewesh bakeries. There are many people of jewish decent with sensitivity to gluten or celiac disease so I think it is really wonderful for Katz to come up with so many traditional items for those who are Jewish and have celiac or gluten sensitivities. Katz is even certified Kosher with is a double bonus!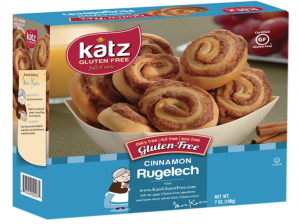 The rugelach were light in flavor and very good. I liked the cinnamon ones especially as they had that spiciness to them that I really like. Their rugelech are all dairy, nut and soy free too. I am not sure what is left to put in them but boy are they good and tasty. They really pull these babies off. I couldn't believe that they weren't just gluten-free but also were free of so many of the other major allergens.
I must add that all of Katz items are free from gluten, nuts and dairy and some of their products are even egg and soy free! If you have friends or family member with sever allergies, Katz is for you. Katz is certified gluten-free and made in a fully dedicated gluten-free facility as well. No way for cross contamination to occur at all. This is so extremely important. So many items these days get cross-contaminated and if you are celiac, like me, it can make you so extremely ill.
I really have to give a major shout out to Katz for continuing to make such high quality and full of flavor items. My son and many other kids on limited diets are so lucky to be able to grow up eating Katz.
Keep an eye out for Katz in your local grocery store. If you don't see them be sure to ask. You can order online as well and store them in your freezer. Katz items freeze very well. Also keep an eye out for pt 3 of my review where I will be reviewing all their different breads, rolls and bagels.
From our home to yours, Tina Turbin
If you have any questions or suggestions just email me at info (at) GlutenFreeHelp.info.