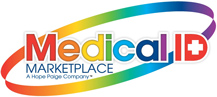 With celiac disease awareness on the rise, more and more companies, such as Hope Paige, are coming out with useful products for the celiac community.
     Hope Paige is not an ordinary medical bracelet company. Whether you want a waterproof bracelet, one with charms, one to wear to work, or one to go with your wedding dress, this is the company for you. Unlike most medial bracelets I have seen, Hope Paige bracelets are unique accessories offering a wide range of sizes and prices. They offer items for all ages.
     You may be thinking, "Why would I need a medical bracelet if I'm celiac, gluten-sensitive or have a dairy allergy?" You would be surprised at how many drugs these days have gluten, dairy, etc. in them. If something were to happen to you (or your child or other loved one) requiring immediate medical care, you most likely wouldn't have the time or be in the condition to express your needs. This could be detrimental to any celiac's health.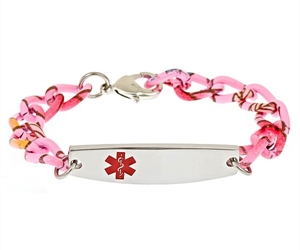 On a lighter note, another beneficial purpose for these bracelets is keeping children gluten-free in non-emergency situations. When gluten-free children go on field trips, over to friends' houses, etc., parents may rely on the additional backup from these bracelets to keep others properly informed. Allowing your kids to pick out their own style of bracelet is a lot of fun, and there is an easy engraving process on the site.
     Although GlutenFreeHelp.info is mainly for celiacs and those who live a gluten-free lifestyle, I know that many of our readers have other allergies or know people who do. Hope Paige can engrave any allergy on their medical bracelets. Whether you have an allergy to wheat, peanuts, penicillin or aspirin, Hope Paige will make you feel fashionable and safer "wearing your allergy."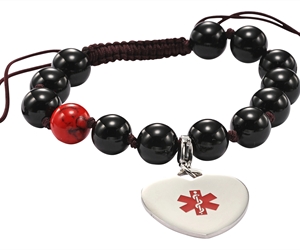 Approximately 30,000 people a year in the U.S. are rushed to the hospital due to a food allergy. Spread the word of getting tested for celiac disease, and make sure if you or anyone you know has an intolerance or sensitivity to gluten that you order one of these medical bracelets. It's amazing how something so small can save a life.
     With the holidays right around the corner these would make great gifts for your friends and loved ones. The variety of styles available enables these bracelets to be a fashion accessory for those with a more discriminating taste.
Check out the Hope Paige website to see all the fun designs here.
Miranda Jade Turbin
From our home to yours, Tina Turbin
If you have any questions or suggestions just email me at info (at) GlutenFreeHelp.info.