There's an age-old saying that, in my opinion, has never been more true…"It's better to give than to receive." The holiday season is the perfect time for you to give back to the community.
The spirit of the giving season, I want to bring your attention to a fundraiser I'm helping promote this week for a great gluten-free cause. This week only, giving just $2 of your hard-earned money will go toward providing scholarships for children to attend a gluten-free summer camp hosted by the Celiac Disease Foundation (CDF) next summer in Southern California.
But this week, donating $2 doesn't mean you're just donating $2…This week through Sunday, December 25, Gluten-Free Saver has partnered with Van's Natural Foods to raise money to send children to next summer's CDF-sponsored summer camp, and Van's is matching all donations up to $1,000! The goal is to raise $2,000 – and when you donate $2, you're really contributing $4. You can read more about the fundraiser here: www.glutenfreesaver.com.
The summer camp will be held in San Bernardino in Southern California from July 30 to August 3, 2012, and it's open to all 7-15 year old gluten intolerant and gluten-sensitive children – not just those diagnosed with celiac disease.
Sure, receiving gifts this time of year is always fun, but the feeling of knowing that your generous donation of just $2 can bring a tremendous amount of joy to a young child… well, now that's priceless.
Please help reach the goal of donating $2,000 to the Celiac Disease Foundation this week. Every $2 helps. YES! I want to help send a child to a gluten-free summer camp and donate $2 right now!
P.S. 100% of all donations will go directly to CDF.
P.P.S. If you're feeling extra generous this holiday season, you aren't limited to donating just $2 – you can give as much money as your heart desires!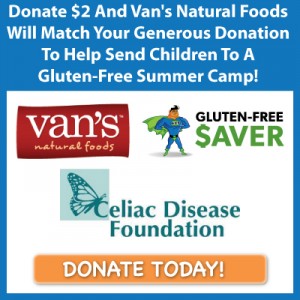 Miranda Jade Turbin
From our home to yours, Tina Turbin
If you have any questions or suggestions just email me at info (at) GlutenFreeHelp.info.