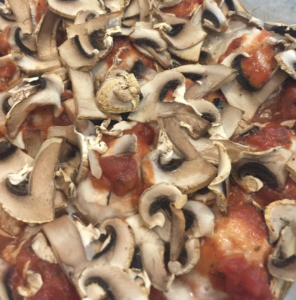 I have to make meals both appealing to my son and husband. Although my son enjoys different spices, I try to not add too much so his stomach doesn't get upset. These Turkey meatballs for sensitive stomachs can be pre-made and they store very well.
I am pleased to announce that Brixton has finally decided he likes to feed himself and no more purees! I have many friends who's kids feed themselves all sorts of foods from 6 months on up. I would see them hand an entire banana to their kid and no choking issues at all. I dreamed of this day for my son. Slow and steady and finally 14 months later we are there.
I took a few of the meatballs and made some spaghetti noodles with tomato sauce for my husband and removed the mushrooms and cut the meatballs into 4-6 pieces for my son as he isn't too into mushrooms. Huge hit. Easy to hold, full of protein and if you are lucky these may help your little one sleep better from the L-tryptophan!
I hope you and your family enjoy these. Serve them over pasta, over zucchini noodles or on their own.
Ingredients:
1 lb ground turkey
4 oz white mushrooms
10oz spaghetti sauce of your choice.
salt
pepper
Garlic powder ( optional)
Makes approximately 16 meatballs.
Preheat oven to 350 degrees.
Slice mushrooms thin.
Mix turkey, salt, pepper and garlic in a bowl.
With a 2tbsp scooper ( if you have one) scoop turkey mixture into a medium oven safe glass dish. If you don't have a scooper just eye it or use a tbsp. to measure.
Place sauce evenly over the top of meatballs.
Scatter mushrooms on top of sauce.
Place in oven for 20minutes and check center when done.
Serve on their own or with your favorite pasta.
From our home to yours, Tina Turbin
If you have any questions or suggestions just email me at info (at) GlutenFreeHelp.info.