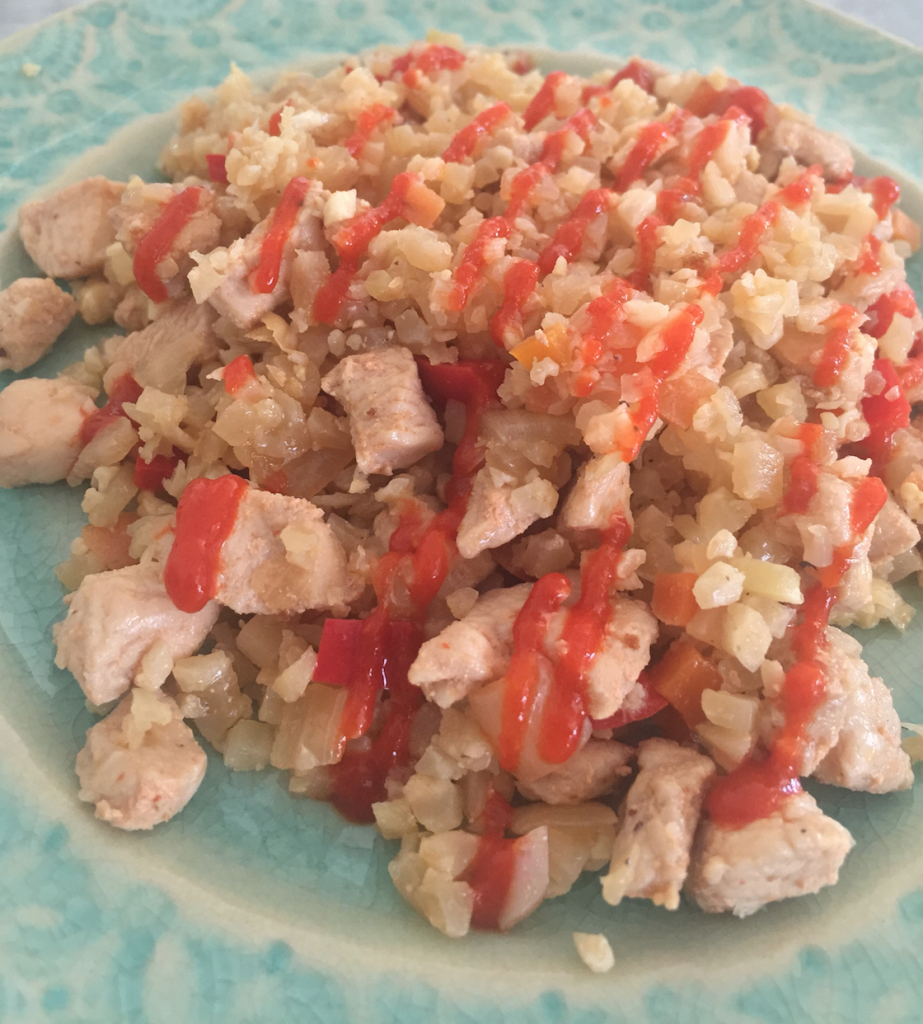 I do my best to transition my comfort foods into healthier alternatives. Chinese food is one of those foods that I crave but after eating it I always feel pretty bloated and gross for a good 24 hours. Food is a big source of my energy as sleep isn't a luxury I always have with a 14 month old. That is why I had to put a spin on chicken fried rice and make a healthier quicker version, easy chicken cauliflower fried rice.
Cauliflower "rice" has become quite popular recently. Actually, cauliflower in general has. I see it used for pizza crust, roasted with delicious sauces at fancy restaurants, etc. It is sort of the new Brussels sprout, in my opinion. Fortunately for me, my local grocery store actually carries cauliflower rice already done. It is easy to make though on your own as long as you have a food processor.
It is important to have gluten-free soy sauce for this recipe. Soy sauce is one of those items with hidden gluten in it. Regular soy sauce is made usually with 40-60% wheat where as a product like Tamari is 100% soy. If you do not do well with soy I welcome you to try coconut aminos instead. I haven't tried this recipe with them but I figure it would still taste delicious! Remember to always read your ingredients to see hidden sources of gluten. It is May which is Celiac Awareness Month and the one thing I stress ever year in May is to get educated as to what does and doesn't have gluten so you can take care of your own body and health.
Ingredients:
1 large head of cauliflower or a bag of cauliflower rice
1 package boneless skinless chicken breast
1 large carrot cubed
1 red pepper cubed
2 garlic cloves cubed
2 eggs beaten
3-4 tbsp gluten-free soy sauce
4-6 green onions minced
2 tbsp sriracha (optional)
1 tbsp chili oil (optional)
Coconut oil ( for cooking)
Salt and pepper to taste
Directions:
Note: This is a one pan meal so just keep using the same large pan throughout the process. No need to clean it. Just add additional coconut oil as needed. Best served right away.
Make your cauliflower rice if you don't have it premade.
Cut chicken up into small squares.
Heat large pan with coconut oil and cook chicken until done.
Set chicken aside in bowl.
In the same pan add eggs and chili oil. Cook until veggies are soft but not mushy.
Set veggies aside.
Cook eggs and garlic together and scramble well. Do not overcook these though. They can still be a little mushy and that is ok.
Place eggs into bowl with chicken.
Add cauliflower, soy sauce and sriracha to the pan.
Stir occasionally for approximately 5 minutes.
Add in the veggies, eggs and chicken.
Stir until well incorporated and cook until warmed up.
Add in the green onion while mixture is still in pan and hot.
Immediately plate your cauliflower fried rice and serve with additional sriracha or a mixture of soysauce and honey for a sweeter topping.

From our home to yours, Tina Turbin
If you have any questions or suggestions just email me at info (at) GlutenFreeHelp.info.