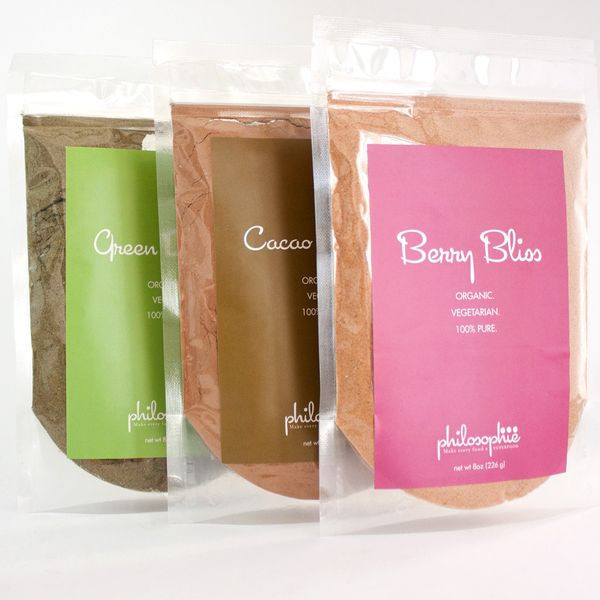 "What exactly is a superfood?" may be a question you are asking. Simply put, superfoods are vibrant, nutritionally dense foods that offer tremendous dietary and healing potential. It can be hard to keep our nutrition well in such a toxic environment. Processed foods left and right. I find myself pooping vitamins left and right trying to keep up with things. Wouldn't it be nice if we could still get all our proper nutrition from our day to day meals? The amount of drawer space in my kitchen that would free up would be tremendous. I have four vitamin draws as it is!
Philosophie Superfood Powder was developed by Sophie Jaffe, a certified Raw Food Nutritionist and Raw food chef. After managing a raw foods store in Hollywood, CA she decided to branch out and create some products of her own that would be good for anyone. And I mean anyone. You can feed them to your toddler or great grandmother. Philosophie Superfood Powders are blends of the best of the best plant-based materials. This allows them to naturally activate the body's potential to rebuild itself, repair and cleanse.
I am always skeptical about powdered products that people try to sell me on. Mostly because they tell me "It tastes good" and then I try them and have to plug my nose. Then I am stuck with a big tub of powder I spent 60$ on and hate. I was pleasantly surprised with the light flavors of the Philosophie Superfood Powders. Each of the three unique flavors help your body in different ways. They contain natural anti-depressants, blood pressure balancers, anti-agining ingredients, libido enhancers, weight loss assisters, anti-disease ingredients, etc, etc, etc. The list goes on and on in benefits.
My favorite flavor was the Cacao Magic. I am a pretty big chocolate lover and this powder helps me get my gluten-free chocolate fix without feeling guilty. Inflammation is a common problem with celiacs. So many years of being undiagnosed really has put stress on all of our bodies. Lucky for us, we do know to stay off gluten now and we can help get our bodies back to a healthy functioning state. This can be a long process sometimes depending on how damaged our bodies are. Philosophie Superfood Powders not only make this process much easier but also much tastier!
Oh, did I mention both George Clooney and Gerard Butler love the Philosophie products?! Maybe I will get lucky and get to share my shake with one of them… or both… I'm not picky : ) .
Philosophie is more than just superfood. It's a lifestyle. Check out Sophies site for yoga retreats, cleanses and more!
Miranda Jade Turbin
www.GlutenFreeHelp.info
From our home to yours, Tina Turbin
If you have any questions or suggestions just email me at info (at) GlutenFreeHelp.info.