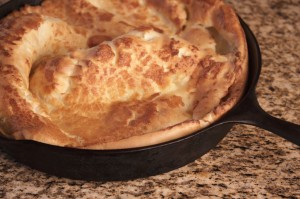 Wow,  this is some Gluten-Free German Apple Pancake!
(makes 2 large pancakes, or 4 servings)
These delicious gluten-free yummies should be served as soon as they're pulled from the oven, as they will deflate soon enough. They're perfect for an easy, laid-back brunch! Boy these are incredible and I make thes often to replace my buckwheat pancakes, which we love as well.
INGREDIENTS
4 eggs
¾ c GF flour mix ( or my flour mix)
¾ c soy, rice, or almond milk
½ tsp salt
1/3 c coconut oil
2 medium apples, thinly sliced
¼ c sugar
¼ tsp ground cinnamon
DIRECTIONS
1. Preheat oven to 400 degrees.
2. Place 2 round layers pans, 9 by 1 ½ inches, in oven.
3. Beat eggs, flour, milk, and salt in small mixer bowl on medium speed for 1 minute.
4. Remove pans from oven. Place 1/2 of coconut oil in each pan. Rotate pans until coconut oil is melted and coats sides of pans.
5. Arrange half the apple slices in each pan. Divide batter evenly between pans. Mix sugar and cinnamon. Sprinkle 2 tbsp sugar mixture over batter in each pan.
6. Bake uncovered until puffed and golden brown, 20 to 25 minutes.
Tina Turbin
From our home to yours, Tina Turbin
If you have any questions or suggestions just email me at info (at) GlutenFreeHelp.info.