There's just not enough "normal" bakeries out there making an effort to make gluten-free goodies for us potential customers. There are plenty of people on gluten-free diets as we all know,  and Sweet Sally's understands this!
    Sally grew up baking and was taught by the best of the best, mom and grandma. Although she worked on Wall Street she never lost her passion for baking and eventually found herself baking her mother's famous recipes for others to enjoy. Lucky us!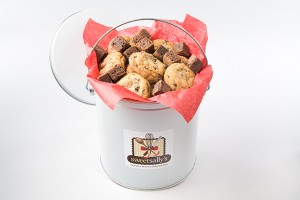 If any of  you are bakers or trying at home then you know just how difficult it is to take a recipe and convert it to gluten-free, not loosing the great texture and flavor. This is especially hard when you don't have any background in gluten-free baking. Well, this did not stop Sally from transforming her delicious home-made recipes into something delicious and delectable for the gluten-free community. I just add that Sally has no personal need for a gluten-free diet, yet she ensures her kitchen is cleaned real well to avoid cross contamination.
    My favorite product of Sweet Sally's has to be the gluten-free double chocolate cookies. These flourless cookies were so rich and with their small size one can try to run control on yourself. I dare you to try! One of my testers was obsessed with the gluten-free almond cookies. Not only are they grain free but  dairy free as well, so they are perfect for those also avoiding dairy.
    All of Sweet Sally's baked goods can be shipped anywhere in the US. With the holiday season fast approaching us (can you believe it's already September!) this is a delicious gift for anyone gluten-free or not. Freshness is a must for Sweet Sally's so she does not make your order until it's placed! This ensures you won't get week old brownies sent to grandma down in Florida. With Sweet Sally's option of spicing up your box with an adorable gift ribbon, you will be sure to surprise anyone.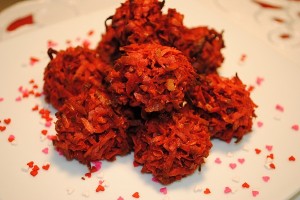 Sweet Sally's has been selected as having the best gluten-free products by the Bergenfest trade show on the 27th of September at the Sheraton Hotel in Mahwah, NJ. Any local NJ foodies should definitely check it out!
    You can order all of Sweet Sally's products online. If any of you live in NJ you can find Sweet Sally's at the Sunday Hawthorn farmers market.
    Ireally admire Sally in her efforts to service us in the celiac, gluten-free and allergy-free community. I give this company a their treats a thumbs up!
 Homemade baking at it's finest!
Miranda Jade Turbin
From our home to yours, Tina Turbin
If you have any questions or suggestions just email me at info (at) GlutenFreeHelp.info.