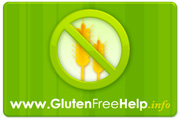 These gluten-free, grain-free goodies taste like they're from the oven, but they're raw. Kids just love these as a special surprise in their lunchbox or waiting for them on the kitchen table when they get home. Dip them in some soymilk for extra deliciousness!
INGREDIENTS:
1 c pumpkin seed meal (butter)
3 tbsp date paste
1 tbsp vanilla bean, ground
1 ½ tbsp spirulina or chlorella
2 tbsp coconut oil (optional)
DIRECTIONS:
1. Place bite-size balls on dehydrator sheet and flatten them.
2. Dehydrate at 104 degrees for 3 to 7 hours.
3. Optional: Add 2 tbsp coconut oil to make them less dry.
4. Store in the fridge when they're done.
Tina Turbin
k.m.
From our home to yours, Tina Turbin
If you have any questions or suggestions just email me at info (at) GlutenFreeHelp.info.