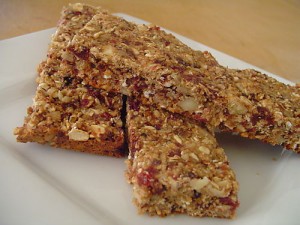 I'm bringing you this recipe courtesy of Cream Hill Estates. For more delicious, gluten-free oats recipes, visit the following link: . Great to put in your kids lunches with some fresh fruit.
INGREDIENTS
2 cups Desiccated coconut, unsweetened
1 1/2 cup Oats, rolled, old fashioned *
1 1/2 cup Raisins
2 cups Sunflower seeds
1/3 cup Sesame seeds
3/4 cup Peanuts or soy nuts
1/2 cup Dried fruit, apples, cranberries, apricots
1/2 tsp Salt
1 cup Honey, liquid
1 tsp Vanilla extract
1/2 cup Peanut butter
DIRECTIONS
1. Mix all ingredients together. Thoroughly blend the honey, vanilla and peanut butter.
(You may need to mix with greased hands to ensure everything is mixed together.)
2. Line jelly roll pan (rimmed cookie sheet) with greased parchment paper. Pat mixture firmly into pan with greased hands or heated spoon. If you want thinner bars use two jelly roll pans.
3. Bake at 275 F till golden brown, 50 to 60 minutes. Remove from oven and once again pat firmly to ensure the bars hold together.
4. Cut into bars or squares, depending on what format you want.
A 40 gram bar has 5 grams of oats (rolled oats). Enjoy!
Tina Turbin
From our home to yours, Tina Turbin
If you have any questions or suggestions just email me at info (at) GlutenFreeHelp.info.