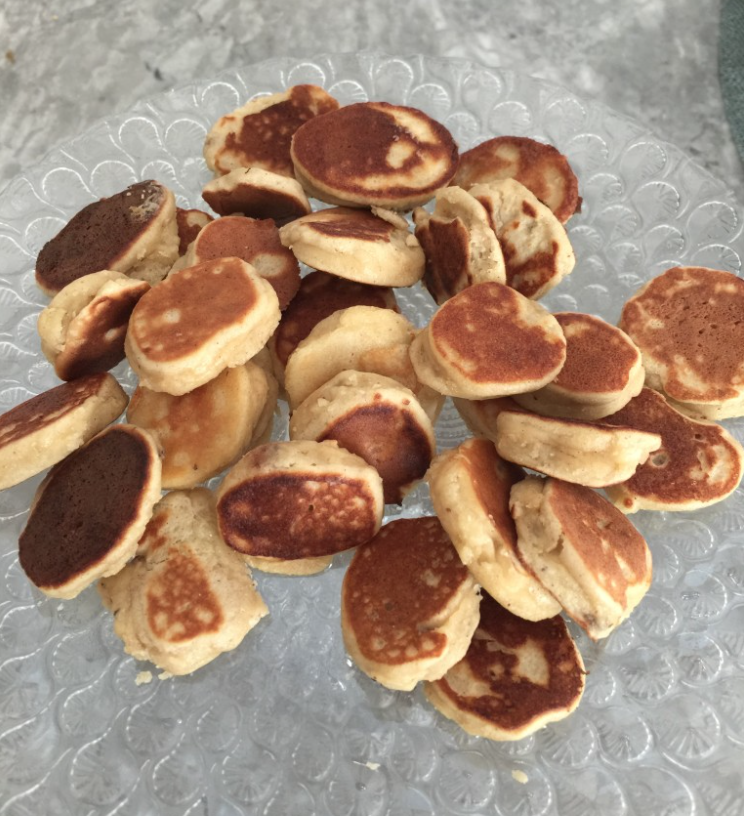 I have been raising my nearly one year old son, Brixton, on a gluten-free diet since he was born. Though I am still nursing him, I have been focusing on a grain-free or even a more paleo friendly approach. Meaning, I have been avoiding grains and even legumes up to now. He is a terrific eater to put it mildly. With his increasing appetite I came up with this kid friendly 3 ingredient pancakes recipe specifically for him and other children. Meant as a kid friendly version of easy to make delicious pancakes. I have celiac disease so it is great for me too! I love to sit and eat these with my precious bundle of joy, and I encourage these moments to be shared by all the other mommies out there too.
It is interesting to note that studies show a child's immune system isn't developed until 2 years of age. Due to this and other research I have done, my husband and I decided to keep him off of gluten until the age of 2. So far he has also been grain-free as I seem to do better off all grains, not just the gluten-free ones.
Now this can present some challenges, like kid-friendly snacks. You walk down that baby isle and we witness rows and rows of pretty lousy baby cookies, baby rice snacks, baby cereal, baby fruit snacks, etc. Yes, I can share my scrambled eggs, my smoothie or even my burger, but what if he wants a little snack and I don't have time to cook anything or pull over somewhere to grab something? This recipe is beyond easy to make and it holds up in the refrigerator or in your child's lunch or cooler very well. I even pop them in the freezer and save them for later.
I make these pancakes for Brixton about the size of a dime or nickel but you can easily make them a little bigger and use them for sandwich bread by slicing them in half or using one for each slice. With just 3 simple ingredients and a few minutes of that 'precious' time, you have an easy and very affordable snack. Being healthy does NOT have to cost more money. In fact, buying prepackaged items costs far more.
I hope your kids enjoy these pancakes as much as my growing boy, Brixton!
INGREDIENTS:
 ½ ripe banana
1 egg
½ cup blanched almond flour
1 teaspoon cinnamon (optional)
 DIRECTIONS:
Mash banana in a bowl with a fork until very mashed up.
Add the egg and mix well until the banana thins out a bit.
Add the almond flour and cinnamon (if you want).
Mix until well incorporated.
Heat up your pan with a little coconut oil or ghee on medium to low heat.
With a small spoon, drop small amounts of batter onto pan.
Once the bottom starts to brown, flip over and cook on the other side.
As soon as they look done, remove from heat and let cool before feeding to your littles.
NOTES:
Keep a close eye on these as they cook very quickly. I do about 15 at a time in a large pan but I have made them many times.
You can also store these in the freezer if you like. Just ensure they are completely thawed out before feeding to your kids so they are not a potential choking hazard.
Miranda Jade Turbin
From our home to yours, Tina Turbin
If you have any questions or suggestions just email me at info (at) GlutenFreeHelp.info.