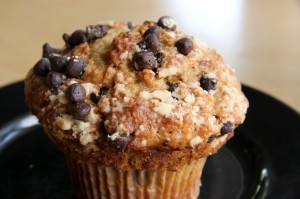 This is a fun recipe. I supplied a few different options so it can be switched depending on what other allergies you all have. Enjoy!
1 ¾ cups Pamela's Baking & Pancake Mix
¼ cup melted butter or oil (or replace with applesauce)
½ cup milk (or soy or rice milk)
½ cup sugar (or honey)
1 egg
1 teaspoon vanilla
1 cup very ripe mashed bananas
¼ cup chopped walnuts, optional
1 cup REFRIGERATED gluten-free chocolate chips
Yield: approximately 7 muffins ( small batch so we aren't so tempted to pig out!)
1. Mix all ingredients together.
2. Fold in the COLD choc. chips and walnuts last.
3. Spoon 2/3 full into greased muffin pan (or use paper muffin cups).
4. Bake in preheated 350 degree oven for approximately 20-25 minutes.
Miranda Jade Turbin
From our home to yours, Tina Turbin
If you have any questions or suggestions just email me at info (at) GlutenFreeHelp.info.