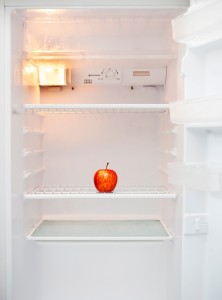 When I first started eating gluten free I was shocked at the prices. Five dollars for a loaf of bread! I was already on a tight budget and had no idea how I was going to make up the difference in my grocery bill. Making the switch to a gluten free diet can be stressful not only do you face the high cost of the gluten free food but also the challenge of learning a new way of cooking. There are a lot of simple ways to make it easier.
First learn about what gluten is and what you can eat. I recommend contacting resources like the Celiac Sprue Association and the National Foundation for Celiac Awareness. A lot of grocery stores offer gluten-free tours and cooking classes, and have lists of gluten free products available. Many stores even have a dietitian available to help. I always advise to seek out a referral from your doctor, it is easier to get help then to try to learn everything by yourself.
For the first couple weeks don't go overboard and buy every product in the gluten free aisle at the grocery store. You will end up with a giant bill and a lot of processed foods, probably some that taste awful. Seek out and buy natural foods as much as possible. Some good advice is to shop the perimeters of the grocery store stick with fresh produce, meat, and dairy.
If something is on sale and you know you will use it then stock up and buy a small supply. I recommend investing in a deep freezer to stock up on items like meat, poultry and vegetables, or freezer friendly gluten free breads when they are on sale. Just be sure to check the expiration dates.
Once you figure out your favorite foods, visit manufacturer's websites and Facebook pages to get coupons or visit sites like MamboSprouts.com, Coupons.com and CommonKindness.com which have fantastic coupons for organic and gluten free food.
Keep your receipts and look at what you are spending the most on and see if you could make it from scratch or replace it with an alternative. After you have learned the basics of gluten free baking and know about hidden gluten why not give it a shot. Don't overdo it and try to bake everything from scratch but start with something simple. I realized I was spending a ton of gluten free spaghetti sauce and tried making my own, it turned out better then the store bought version and cost way less.
Just remember to keep it simple and start with a few basics. Find a good gluten free pasta and bread one week, the next week a salad dressing and cereal, and keep that trend of a couple new foods each week. It will give you time to research and see what is available. A good thing to keep in mind is how our grandmothers cooked, they didn't have the luxury of prepackaged meals and everything already made for them, but had to cook from scratch. In my grandmother's case she cooked some very delicious food.
Nicole
RollingOutDough.com
A little about Nicole from Rolling Out Dough. Nicole is gluten intolerant and wanted to create a resource for saving money on gluten free food. She loves reading, finding a great deal on shoes and spending time with her husband and son. To get more recipes, coupons and money saving tips please visit . You can also find her on Pinterest at http://pinterest.com/rollingoutdough/ .
From our home to yours, Tina Turbin
If you have any questions or suggestions just email me at info (at) GlutenFreeHelp.info.