The Gluten Free Dairy Free Coconut Frosting recipe will get you going coco-nuts! This is a terrific gluten free and dairy free option idea for a topper of a cake, coffee, or even cupcakes. It is yummy enough for children to eat alone too!! If the sound of this creamy frosting doesn't entice you enough, it is also found that coconut fats are a healthy fat option. So this means you are having a pleasant dessert, while intaking some healthy fats… I call that a win, win!
There are so many possibilities that come to mind with a recipe like this one. One of my ideas would be to serve this with the Gluten Free Flourless Chocolate Cake. Something about chocolate and coconut sounds so good, they just might be the duo you didn't know you needed! With the dark and rich chocolaty flavor coming from the cake, the light and creamy coconut frosting will allow for a new and tasty twist!
Give this a try for your next small get together, and wait to see the reaction when people find out that it is indeed both gluten and dairy free! It is also something that you can whip together fast, with it having just 6 simple ingredients, some of which you probably have in your home right now!
Print
Gluten Free Dairy Free Coconut Frosting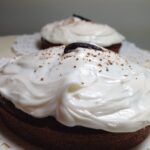 The Gluten Free Dairy Free Coconut Frosting recipe will get you going coco-nuts!
Ingredients
1 can coconut cream
½ cup raw honey (may adjust according to preferred sweetness)
1 pinch salt
5 teaspoons arrowroot powder
1 tablespoon water
¾ cup coconut oil
Instructions
In a medium saucepan, heat coconut milk, honey and salt, simmer for 10 minutes.
In a small bowl, combine arrowroot and water to form a smooth paste.
Pour arrowroot mixture into saucepan.
Mix contents of saucepan with a hand blender. Whisk vigorously to combine, then bring to a boil, briefly, until shiny.
Remove pot heat and very gradually blend in coconut oil with a hand blender.
From our home to yours, Tina Turbin
If you have any questions or suggestions just email me at info (at) GlutenFreeHelp.info.