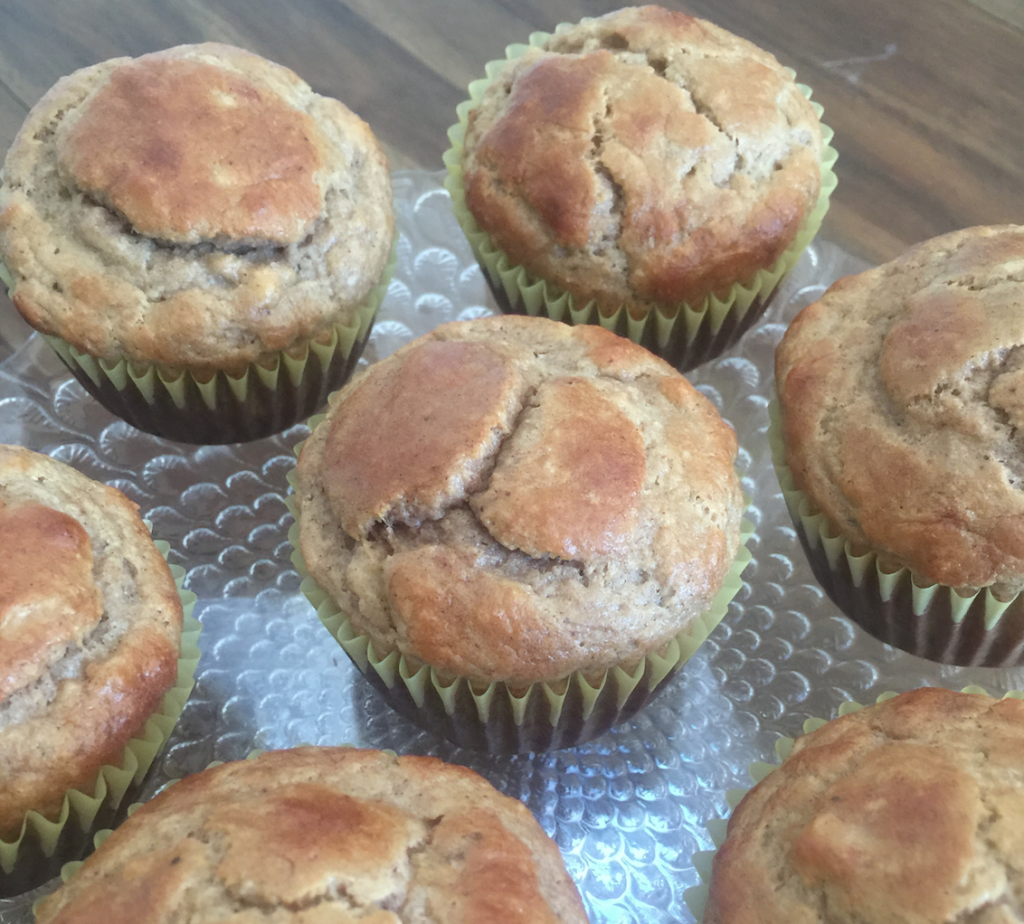 Diets are always a hot topic. With our societies health as a whole declining many are searching for that "perfect diet". In fact, the word "diet" has somewhat of a stigma connected to it. A diet should be a lifestyle change, not something you do for a couple days crazily and then eat flaming hot Cheetos for 2 days. That is why I made these healthy gluten free banana muffins.
Since giving birth 13 months ago, my baby has been my priority. I was eating everything and anything my body needed to make healthy milk for my son and to keep my body in perfect mom mode.
Now with my son being 13 months old and me weaning him off of breastfeeding, I can focus a bit more on myself. Weight-loss is no walk in the park for most after having a baby. You hear "breastfeeding burns 500 calories a day, you will drop the weight without having to try!" What nobody tells you though is that you are hungry all the time!!!
So now here I am 13 months after giving birth and I needed to make a healthy change that would give me the energy to chase my very active son around while also allowing me to get back into my pre baby shape before I once again get pregnant next year.
I am no nutritionist or dietician but this is in a nutshell what my diet right now consists of. Protein, veggies, 1-2 servings of fruit a day, nuts, good fats. What it does NOT consist of: sugar, honey, maple syrup, artificial sweeteners, dairy ( goat or cow), grains. I also don't eat after 6pm and eat 95% of my foods fresh and homemade as opposed to boxed or out at restaurants. I would call this the " Miranda combo lifestyle diet". It is working for me and I have more energy than ever. I never would do something like this if my son was younger though as I would have been starving all night.
I was looking around for some recipes that would go along with my diet but give me somewhat of a treat. Put some melted butter on it and enjoy with that morning coffee because you deserve it!
Ingredients:
2 Ripe Bananas Mashed
1/2 cup Unsweetened Apple Sauce
1/4 cup of Walnut Oil
3 Eggs
1 tsp Vanilla ( extract or powdered)
2 cups Blanched Almond Flour
1 tsp Baking Soda
1 tsp Baking Powder
1/2 tsp Salt
1 tsp Cinnamon
1/4 tsp Nutmeg
1/4 tsp Clove
Directions:
Preheat oven to 375 degrees.
Line muffin pan with liners or coconut oil.
Mash bananas well.
Add all other ingredients and mix well.
Scoop mixture evenly between 12 muffins.
Bake for 15-20min until done.
Remove from heat and enjoy!
From our home to yours, Tina Turbin
If you have any questions or suggestions just email me at info (at) GlutenFreeHelp.info.