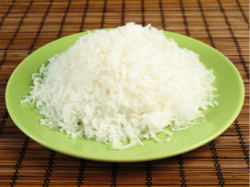 This recipe will vamp up your chicken and make your grain-free diet a whole lot easier. I am always having to come up healthy alternatives for my grain-free lifestyle and this is one that you can't go wrong with. Even the boys at Crossfit High Voltage who can't cook should be able to do this one.
INGREDIENTS
½ c coconut flour
½ tsp salt
12 grinds fresh black pepper
¾ c shredded coconut
1 egg
1 tbsp grape seed oil
1 2/2 lbs. boneless, skinless chicken breast halves, cut into 1-inch strips
1/3 c extra-virgin coconut oil or butter melted
DIRECTIONS
1. Preheat oven to 400 degrees.
2. Mix flour, salt, and pepper together in a medium bowl.
3. Put both shredded coconuts in a bowl.
4. Lightly beat an egg with the tbsp of oil.
5. Dip chicken pieces in flour to coat evenly. Dip chicken into egg mixture and then coat with coconut mixture.
6. Place chicken in a shallow baking pan. Drizzle with melted coconut oil, butter, or margarine.
7. Bake 15 to 20 minutes in preheated oven or until chicken is browned and cooked through, turning once
Enjoy!
Miranda Jade Turbin
From our home to yours, Tina Turbin
If you have any questions or suggestions just email me at info (at) GlutenFreeHelp.info.