I have been using this spice on almost everything: salads, chicken, cole slaw, eggs and veggies. My favorite combo thus far has been swiss chard and mushrooms, liberally seasoned with this tasty spice:
INGREDIENTS:
1 bunch of swiss chard, torn into shreds
1 pint of white mushrooms, sliced
1 clove garlic, chopped
2-3 tablespoons of butter
Cajun's Choice Blackened Seasoning
DIRECTIONS
Melt the butter in a skillet over medium heat.  Add the garlic and toss until a bit brown – about 2 minutes.
Add the mushrooms and stir fry for about 5 minutes on medium heat.
Add the chard and stir fry again until tossed with butter and mushrooms. About another 5 minutes or so.
Sprinkle liberally with Cajun's Choice and enjoy!
You could even add some protein to this dish if you wish.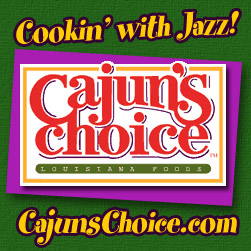 Miranda Jade Turbin
From our home to yours, Tina Turbin
If you have any questions or suggestions just email me at info (at) GlutenFreeHelp.info.