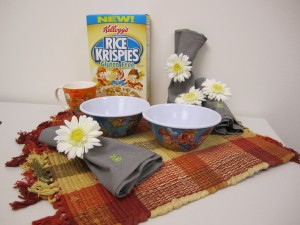 It has been a while since we have done a giveaway so I thought we could start them off with a bang! I always loved eating Rice Krispies as a child. Not only did they taste good but they made such fun sounds. They were my favorite cereal even before I was diagnosed celiac. Snap Crackle and Pop were regulars in the Turbin household. The Kellogg brand has really helped in the gluten-free world with their amazing gluten-free commercials. Just think how many people these commercials reach! I remember the first time I saw one of their commercials. I just about jumped out of my chair.
When was the last time you enjoyed a fun hassle-free gluten-free breakfast? Well, now is your chance. I will be giving away a gluten-free Kellogg breakfast kit ( valued at 70$) to one lucky winner.
To enter all you have to do is:
1) Like this facebook page: Gluten Free Miranda Jade and comment on the wall letting me know who you would share your gluten-free breakfast kit with.
2) Follow me on twitter: http://twitter.com/#!/glutenfreelikes
3) Comment bellow letting me know how much you love Kellogg's cereal :).
I will be picking at random one winner. You will need to supply me with your information if chosen so Kellogg's brand can send you your very own breakfast kit. This giveaway will end the 20th at midnight EST. 
Good Luck!
Miranda Jade Turbin
The fine print:
Kellogg Company® has provided me with a Kellogg's Gluten-Free Breakfast Kit to conduct a reader giveaway. However, my opinions on the product are entirely my own and I have not been paid to publish positive sentiments towards Kellogg Company® or their products.
From our home to yours, Tina Turbin
If you have any questions or suggestions just email me at info (at) GlutenFreeHelp.info.