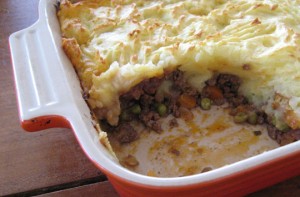 This recipe is a little more time consuming but it makes a lot so it's worth it. Also, its delicious!!! For all my Whole Life Challenge buddies at Crossfit High Voltage, please try it out and send me pictures!!! This taste like the real deal and is comfort food at its finest. I know my crossfit coach Tyler is going to somehow try to use his crock pot for this ( aka rice cooker).
INGREDIENTS for topping:
1 head cauliflower
2 tbsp butter – not melted (optional)
2 tbsp milk of choice (optional)
INGREDIENTS for filling:
1 tbsp olive oil
1 large onion diced
3 celery stalks diced
2 carrots diced
2 cloves garlic diced
2 lbs ground beef (chicken or turkey)
¾ tsp chili or chipotle
2½ tbsp of Arrowroot powder
6 oz peas (frozen or fresh sweet peas)
DIRECTIONS
Preheat oven 420
Topping:
Steam cauliflower till soft in 2½ cups of water (drain and save water)
Place in cauliflower in a bowl and mash with fork
Take your Bullet, hand processor, Vita-Mix or blender and puree – (add butter and milk if you desire slightly creamier, but not necessarily at all)
Salt and pepper to taste.
Filling:
Heat oil in large skillet.
Cook onion about 2 min on med
Add celery, carrot and garlic – cook about 8 – 10 mins.
Add beef for about 5 min – stir – break up pieces to be small
Add the arrowroot powder to 2 cups of your saved water from your steamer and whisk it – add to beef and boil around 1-2 min on low heat
Pour filling into a 2 qt dish
Evenly distribute cauliflower mash over the top, sealing edges.
Bake approx 30 min
Miranda Jade Turbin
From our home to yours, Tina Turbin
If you have any questions or suggestions just email me at info (at) GlutenFreeHelp.info.