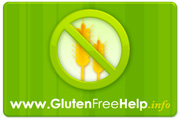 This is a gluten-free, grain-free version of a diet staple. Top this over mashed potatoes and your meat or meat substitute of choice. Yum!
INGREDIENTS:
1 c cashews (soaked 4 hrs and drained)
¾ c crimini mushrooms
2 ½ c filtered water
2 tsp lemon juice
2 garlic cloves
2 ½ tsp gluten-free Tamari sauce or Coconut Amino Acids
Add later:
1 /2 tsp scallions, chopped
½ tsp (no more!) nutmeg
DIRECTIONS:
 1. Just when you're ready to pour the gravy right over mashed potatoes or cauliflower mashed potatoes, blend the first set of ingredients together.
2. Add scallions and nutmeg.
Miranda Jade Turbin
k.m.
From our home to yours, Tina Turbin
If you have any questions or suggestions just email me at info (at) GlutenFreeHelp.info.