(I am not paid or given any incentive to write one way or the other. What you are about to read is from me to you, my honest opinion.)
The Gluten Free Certifications Organization has given a thumbs up to Nu Go Free's bars – Carrot Cake (in other words "Yum"), Dark Chocolate Crunch (double yum) and Dark Chocolate Trail Mix (hiking with yum).

These three bars are out of this world in taste and are free of the common alternative vegetable fats that offset the many benefits of true dark chocolate. Each 16 oz bar has a full 9 grams of rice protein.  They are all free of soy, vegan as well as dairy.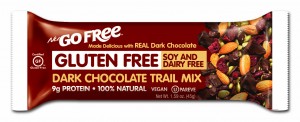 These three bars came out in 2009; each batch is tested and is made in a glut –free facility. They are really a terrific bar to take on the run or even stick in your child's lunch box for a mid-day snack.
Owner, David Levine got into the gluten-free nutrition bar arena in 1999. After seeing the issues revolving gluten he knew there was a need. Being a company that cares about lifestyle and nutrition- hence HEALTHY gluten-free bars came in to the picture.
We tested these on kids 4-9 years old and they all liked them.  This says a lot.  Of course all the adults gave them a thumbs up.
Remember, every batch is tested for traces of gluten.
Nu Go Bars 1.888.421.2032   http://store.nugonutrition.com/category/nugo-free.html
Tina Turbin
www.glutenfreehelp.info
From our home to yours, Tina Turbin
If you have any questions or suggestions just email me at info (at) GlutenFreeHelp.info.