Reviewing and testing Cajun Choice products was not only an educational experience in the kitchen, it was also an educational experience in the culture of Louisiana, Creoles and Cajuns.
As we tested the various spice seasonings sent to us, we pleasantly transformed the simplest of dishes into delicious meals bursting with flavors perfectly teasing our palates. We all have a new love and appreciation for Cajun/Creole fare.
Cajuns, who are direct descendants of the Acadian French of Nova Scotia (after relocating there from Normandy), eventually relocated to Louisiana after being forced to leave Nova Scotia by the British. Indigenous ingredients introduced to them by the Choctaw Indians combined with their own French flair resulted in the best of flavor combinations. Creoles on the other hand are French, Spanish, African, or Italian by heritage. Louisiana is thus quite a melting pot with the various cultural influences from the many years of immigration and purchases and sales of Louisiana.
I have found through Cajun Choices seasoning packs a true blend of the best of both worlds – known as "Louisiana cooking."
We used the Blackened Seasoning on a variety of dishes of fish, chicken and beef. The most unique property to this spice was its ability to make each fish dish taste different. No two dishes tasted even remotely alike, despite using the same spice. The oils picked up the spices and evoked their own flavors. Amazing and delicious. This was one of our favorite spices! Try it even on eggs!
The Cajun Shrimp seasoning was a whole new surprise. Shrimp, scallops and burgers never tasted so good. We again took a simple seasoning mix and played with it in a variety of ways only to be pleasantly surprised with each dish.
The Creole Seasoning has a kick! This is truly a spicier, hotter flavor and perfect for anyone wanting a bit more "bite" in their meal or dish. It is incredible added to our Sorgum Popcorn and our Red Pepper Soup that we came up with.
They have a Jambalaya Mix which converts your sausage and chicken into a dish that tastes as if you're sitting right there on the Mississippi River.
Last but not least, we enjoyed Cajun's Choice Shrimp, Crab and Crawfish Boil. We followed the directions, adding corn on the cob, smoked sausage and potatoes. It was the easiest one-step boiling meal with a rewarding flavor for so little effort.
Cajun's Choice was founded in 1985 out of a desire to devise genuine Cajun flavors addressing the misconception that Cajun is only "hot." Blending the right ingredients in the exact proper rations, without overpowering our taste buds, the small team at Cajun's Choice have enabled us at home to enjoy one of America's favorite regional cuisines, gluten-free and true to taste.
We love all the products we tested and will keep these spices as staples in our kitchen from now on.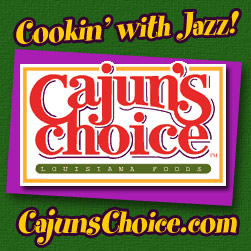 Tina Turbin
k.m.
From our home to yours, Tina Turbin
If you have any questions or suggestions just email me at info (at) GlutenFreeHelp.info.