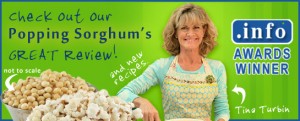 Recently I published a rave review of Just Poppin's delicious popped sorghum, including many recipes which include this delicious ingredient. More recipes will be posted over the coming months so be sure to sign up for my regular emails on the Home Page.
I was pleasantly surprised to find a very large banner featuring my review and me sitting along with Oprah. Yes, that is right! Just Poppin is an amazing company with an amazing gluten free product unlike others, sorghum. They were honored to have a company appearance in Oprah Magazine and well, the rest is history. Click on the link below to check it out!
Tina Turbin
From our home to yours, Tina Turbin
If you have any questions or suggestions just email me at info (at) GlutenFreeHelp.info.