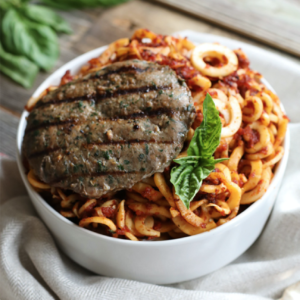 I think you will love the twist in this new gluten free recipe. When I say parsnips what do you think of? I bet you never really think "parsnips and pasta" in one sentence. Well, this gluten-free parsnips pasta with sun dried tomato pesto recipe is going to really give you one heck of a new view on parsnips! It sure did for me.
Angela from Tribali Foods wanted to share with us all a really simple gluten-free recipe to go with their grass-fed Mediterranean Beef patties. She adds zoodles with a twist by using parsnips instead of zucchini. She also shared her sundried tomato pesto for a super zesty and fresh combo that is very refreshing. Another thing I want to add about this gluten-free recipe is that it won't leave you feeling "food coma". No heavy meal feeling yet you will feel satisfied and full.
Angela works with Tribali Foods, company I think is pretty amazing. They use single-sourced ingredients. It was founded by Holistic Nutritionist Angela Bicos Mavridis, All TRIBALÍ Foods products are Gluten-Free, Paleo certified, Whole30 approved, Non-GMO Project Verified and free of dairy, soy, preservatives and fillers. Pretty cool!
Angela told me she spent 35 years meat free, and then later realized her own family's Greek approach to nutrition (which was really just a gluten-free and Paleo diet) was exactly what her body wanted and needed! She combined her passions for wholesome, nutrition-dense meats, ancestral ingredients, and globally-inspired flavors, resulting the new, delicious brand of clean, nutrient-dense meats.
I for one love their gluten-free patties. I just cook them directly from the freezer without having to wait to thaw them out. Ready in minutes and so easy. The patties are deliciously flavorful. Available in Mediterranean Style Beef, Umami Beef and Chipotle Chicken. Made from 100% organic grass fed and finished, pasture-raised beef or 100% organic free-range, air chilled chicken. All the all TRIBALÍ Foods meat is raised humanely on American farms without any added antibiotics or hormones and all ingredients are 100% American sourced. That is so hard to find!
You can check out TRIBALÍ Foods products at www.tribalifoods.com, on Amazon.com, TheSimpleGrocer.com, and HealthyGoodness.com, or in the freezer section at retailers including Whole Foods Markets, Erewhon, Woodlands Markets, Grassroots, Lassens. The brand will soon launch in Bristol Farms and Target stores, too! For more gluten-free and quick and easy meals, visit their website and sign up for the TRIBALÍ newsletter to receive a free e-cookbook.
Print
Gluten-Free Parsnips Pasta with Sun Dried Tomato Pesto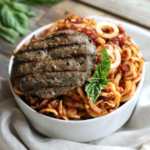 This gluten-free parsnips pasta with sun dried tomato pesto recipe is going to really give you one heck of a new view on parsnips! It sure did for me.
1

(8.5oz) jar of sun dried tomatoes packed in oil

1 teaspoon

minced garlic

½ cup

chopped walnuts

¼ cup

olive oil

1 tablespoon

chopped fresh basil
Salt and pepper to taste

5

Parsnips, spiralized into noodles

1 teaspoon

olive oil

4

Tribalí Mediterranean Patties
Instructions
In a food processor or high powdered blender combine sun dried tomatoes and their oil,
garlic and walnuts and blend for 30 seconds – 1 minute until only slightly chunky.
Add in basil and pulse a couple of times just to chop it up.
Season with salt and pepper to taste.
Place a pan over medium high heat and add 1 teaspoon of oil to the pan.
Toss in spiralized parsnips and sauté, stirring occasionally for 5-7 minutes or until tender.
Add pesto to the pan and toss until coated and heated through.
Cook the Tribalí Mediterranean Patties according to package directions and serve on top of the noodles.
From our home to yours, Tina Turbin
If you have any questions or suggestions just email me at info (at) GlutenFreeHelp.info.