I have been "pudding" a lot of love into this fine Tapioca Pudding recipe, and I am so excited to be able to share it with you. A taste of this pudding will send your taste buds ascending to the clouds. This recipe is a very clean tasting, gluten-free, dairy-free recipe without any sugar. This means it is a dessert for all to enjoy, with minimal risk of food allergies. The creamy consistency of the tapioca pudding will make you come back for seconds…maybe thirds…without the guilt!
Growing up, tapioca pudding was one of my favorite desserts, and as time has passed, my love of this pudding has grown even stronger. After being diagnosed with celiac disease and tailoring my diet to include a healthier lifestyle, I still wanted to be able to enjoy my favorite desserts. When this happens, I go right to the kitchen and let my desire fuel my creativity. This is also why I like to avoid certain ingredients in my cooking, allowing my recipes to reach and help more people. If you have any questions on how to follow the gluten-free diet and still enjoy some of your favorite meals, feel free to ask me! I always love hearing from my fellow foodies!
So, for everyone who loves a good tapioca pudding, this recipe is for you. No matter if you live.
an active lifestyle, just want a healthy treat, or are up for something new to add to your family's menu, anyone can enjoy this fun recipe. Great for adults and children alike to enjoy! If you grew up eating this like me, let each bite take you back to your fondest memories. If this is your first time giving it a whirl, have fun forming new memories in the kitchen surrounded by good company!
Print
Sugar Free Tapioca Pudding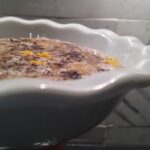 I have been "pudding" a lot of love into this fine Tapioca Pudding recipe, and I am so excited to be able to share it with you.
1/3 cup small pearl tapioca pearls
1–1/4 cups water
1 –14-oz. can full fat coconut milk
5 tablespoons pure maple syrup or more to taste
2 egg yolks (only)
1 tsp. fresh ground nutmeg (optional)
½ tsp organic ground vanilla bean OR 1 tsp. organic vanilla extract
1/4 tsp. sea salt
Instructions
Add small pearl tapioca and water to a saucepan.
Soak 30 minutes.
Leave water in the pan.
Add the coconut milk and pure maple syrup.
Cook over medium heat, stirring occasionally until the mixture comes to a gentle bubble.
Reduce heat to low.
Whisk egg yolks in a small bowl.
Add a very small amount of your hot tapioca to the egg yolk bowl.
You are tempering the yolks ( Google what this means if you do not know)
Whisk well.
Transfer the egg yolk mixture to the saucepan
Whisk it all very well.
Add all the remaining ingredients.
Simmer uncovered very low heat for about 10 to 15 minutes.
Stir now and then.
The mixture will thicken.
Serve tapioca pudding warm.
If serving chilled cover after an hour with saran in the refrigerator.
Notes
You can add maple and nutmeg to taste.
It will last in the refrigerator a few days and still remain fresh.
From our home to yours, Tina Turbin
If you have any questions or suggestions just email me at info (at) GlutenFreeHelp.info.