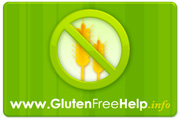 A gluten-free diet is the only treatment available for celiac disease and generally helps patients heal from intestinal damage caused by the disease's characteristic autoimmune reaction to gluten. Unfortunately, not all celiacs recover from the damage. In fact, a study in The American Journal of Gastroenterology has found that more than 30 percent of celiac patients have not shown intestinal healing after five years on the diet!
In an article on GlutenFreeSociety.org, Dr. Peter Osborne, a Board Certified clinical nutritionist, asks the key question, "Why are these patients failing to heal?"
When many gluten-sensitive and celiac individuals begin treatment on the gluten-free diet, they often turn to unhealthy substitutes for gluten-containing food items. These foods are processed, low in nutrients, hard to digest, not even free of gluten, and contain chemical additives.
Dr. Osborne also points out that just because an item is labeled "gluten-free" doesn't mean that it is. Research is indicating that corn gluten can lead to the same health issues caused by celiac disease. According to Dr. Osborne, research has "identified 400 new gluten proteins – many of which were shown to cause damage in patients with gluten sensitivity." Thus, the conventional gluten-free diet may not necessarily be truly gluten-free and thus will not promote healing, but lead to more health problems.
So what should a healthy, healing gluten-free diet consist of? Dr. Ritamarie Loscalzo, a Doctor of Chiropractic and Certified Clinical Nutritionist, recommends a gluten-free diet rich in whole foods, healthy fats, and fresh fruits and vegetables and low in preservatives, sugars, food colorings, and oxidized fats. If you suspect that your gluten-free diet may be unhealthy or deficient in healing power, it's recommended that you meet with a nutritionist experienced with the gluten-free diet or another qualified healthcare provider in order to evaluate and modify your diet.
Tina Turbin
k.m.
Resources:
Dr. Ritamarie's Creating Vibrant Health Blog
Gluten Free Society: Why Are Gluten Free Diets Failing to Heal So Many Patients? http://www.glutenfreesociety.org/gluten-free-society-blog/why-are-gluten-free-diets-failing-to-heal-so-many-patients/
From our home to yours, Tina Turbin
If you have any questions or suggestions just email me at info (at) GlutenFreeHelp.info.