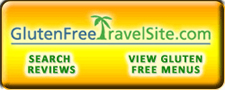 If you're anything like me, or the average American in fact, you probably like to get away and travel every now and then. The demands of your work may even lead you to travel rather frequently. No matter why or how often, traveling can be an important part of your life even if you are on a gluten-free diet. Fortunately, thanks to GlutenFreeTravelSite, being away from home when you're gluten free doesn't have to be the headache it once was.
There is certainly a need for the service GlutenFreeTravelSite provides. It's likely you've heard the statistics. About one percent or three million Americans have celiac disease (CD), an autoimmune reaction to gluten, which is a protein found in wheat, barley, and rye. According to the Gluten-Free Restaurant Awareness Program®, eight to ten percent of the population is on a gluten-free diet. With so many people in need of gluten-free-friendly dining and accommodations, the Gluten Free Travel Site is providing quite a service.
There are websites, such as GlutenFreeRestaurants.org and GlutenFreePassport.com, which have a database of gluten-free-friendly restaurants and eateries; the Gluten-Free Travel Site stands out for its database that allows you to search gluten-free-friendly restaurants, grocery stores, hotels, resorts and even cruise ships internationally, in nine different areas of the world. The tool allows you to also search by city or city code and view the results on a map. There is also a Gluten Free Travel Blog, providing frequent updates about the latest gluten-free news in the restaurant industry.
If you enjoy writing or would like to share your gluten-free traveling experiences with others, you can also submit reviews of your own to GlutenFreeTravelSite. All that is required is a free registration process, which you can do easily online on the website. Once a month, a review providing detailed information on a particular restaurant, resort, or the like is featured under the Featured Review section.
Not only does GlutenFreeTravelSite provide information about accommodating restaurants and accommodations, it also has an extensive Travel Resources page. In this section, you are provided with information about celiac groups in the U.S. and around the world, helpful trip planning resources, recommended books and guides, information about gluten-free-friendly airlines, cruises, resorts, and hotels, and more. For instance, GlutenFreeTravelSite highly recommends Disneyworld, which it calls "the gold standard for gluten-free dining," where you can dine worry-free with "virtually no need to bring any of your own food."
Additionally, GlutenFreeTravelSite provides the "Internet´s most comprehensive listing of gluten-free restaurant menus offered by national and regional chains." They are all available for viewing on the website, listed from Austin Grill to Z'Tejas Southwestern Grill, sometimes with coupons, too.
There's enough to worry about when you're traveling—making reservations, planning your itinerary, packing, and arranging your personal affairs while you're away. You shouldn't have to worry about how you're going to make it through your trip gluten-free. Thanks to the Gluten Free Travel Site, you can set your mind at ease and plan a trip that you'll be sure to remember fondly.
Tina Turbin
k.m.
Resources:
GlutenFreeTravelSite http://www.GlutenFreeTravelSite.com
Gluten Free Restaurants http://glutenfreerestaurants.org/chef.php
From our home to yours, Tina Turbin
If you have any questions or suggestions just email me at info (at) GlutenFreeHelp.info.