I was at home the other day and remembered a simple chicken trick I used to do when I first moved out of the house. It was easy, clean eating, small cleanup and really delicious. I decided to give it ago off of memory and it turned out great. Wanted to share it with you all as I know our busy schedules don't allow much time for homemade meals.
Enjoy!
Ingredients:
4 Boneless Skinless Chicken Breasts ( as similar in size as you can find)
1 Zucchini
1 Red Pepper
5 Mushrooms
1 Shallot
4tbs Melted Grass Fed Butter or Ghee
1 Large Edged Baking Sheet
4 12×12 Sheets of Aluminum Foil
Directions:
Preheat the oven to 400 Degrees F
Using a peeler, peel zucchini into small long strips as much as you can. ( will get  tricky as you get to the center)
Remove stem and insides of red pepper. Cut into quarters and then slice each quarter into very thin slices. ( similar size to your zucchini)
Cut mushrooms into same size slices.
Remove outer skin of shallot and cut into thin slices.
Place all veggies in a bowl and toss with a generous amount of salt and pepper.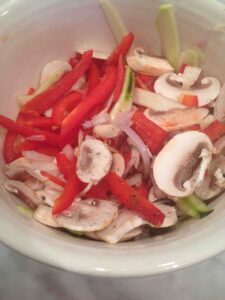 Remove your chicken breasts from package and slice in half evenly.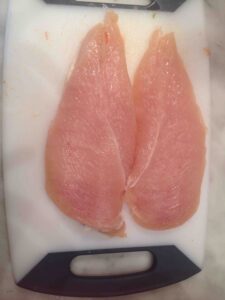 Take your precut aluminum foil and brush all over one of its sides with the melted butter. Leaving about an inch around clean so you can handle it easier.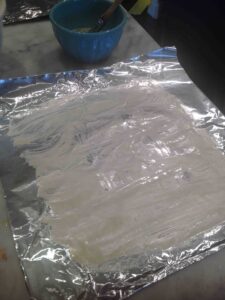 Place underside of chicken down and pile a large amount of veggies on top of it.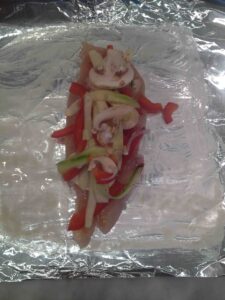 Add top piece of chicken and brush top with more butter.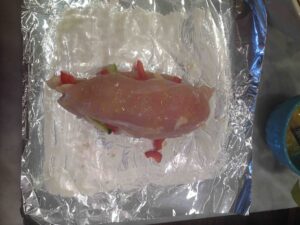 Now for the fun part. Lift the two sides ( in above picture would be the top and bottom sides of that piece) and fold them down together to create a seal. Do the same thing with the ends. Will sort of look like you have a little burrito.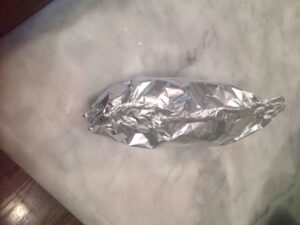 Do the same thing with all the chicken and place on your edged baking sheet.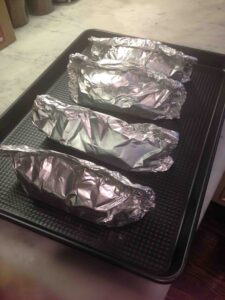 Place in the oven for 18-20 min depending on the size of your breasts. Be careful, aluminum packets will have a lot of steam in them when opened. If serving immediatly you can serve chicken in their packets and let guests open the packet themselves. If saving for later, open all packets and place in a glass container for later. Pour some of the juices from the chicken into container to keep chicken moist.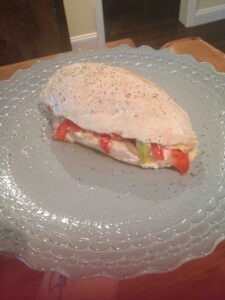 I like to sprinkle the top of my chicken with a little pepper before serving for the usual aspect.
I hope you enjoy this dish as much as I do. Feel free to trade out the veggies for other ones you like more. Just be sure they are cut very thin or they won't bake well.
Happy Eating!
Miranda Jade Turbin
From our home to yours, Tina Turbin
If you have any questions or suggestions just email me at info (at) GlutenFreeHelp.info.