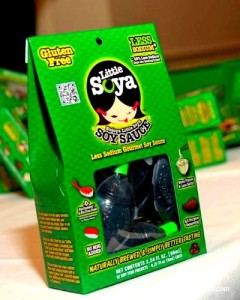 Being a diagnosed celiac doesn't allow for "a little bit of gluten" or just a dash for thickening or anything of that nature. They key to my health and happiness is being 100% gluten-free all the time. Being gluten-free as long as I have makes this easy as I have reorganized my life and educated myself enough on ingredients so as to not miss any little sneaky gluten that could make itself into my meal.
When I was about 13 my taste buds changed for the better. I suddenly found a huge love for fish, which before this my mother couldn't pay me to eat. With this love for fish came a deep love for sushi. At this time I wasn't diagnosed celiac so I would dump that soy sauce into my dish and go for it.
When I was diagnosed with celiac disease about 7 years ago (wow, has it already been 7 years?!) , there was a lot of adjusting to do. I had to learn so much and quickly. I was quite sad to find out soy sauce had wheat in it. How was I supposed to eat sushi without even a drop of soy sauce ever again? I will admit, at first I would cheat. Have just a teaspoon of soy sauce here and there if I really wanted it. The reaction of my body to such a tiny amount of gluten was not unnoticed though and eventually I had to give it up completely. I did find gluten free soy sauce eventually and although hard to bring with me every time I ate sushi, I did the best I could.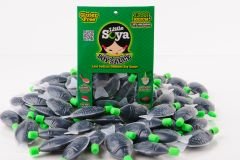 Recently I came across Little Soya's gluten-free soy sauce. Little Soya's gluten-free soy sauce comes in individual clear plastic fish dispensers. You just remove the green cap, squeeze as much or as little of the Little Soya gluten-free soy sauce into your sauce dish and go for it. The packaging of this soy sauce is brilliant and I can't get enough of it. Super convenient and the cap screws back on if you don't end up using the whole fish in one sitting.
With my busy schedule I never quite know when I will be eating out or not. I keep a couple Little Soya's gluten-free soy sauce "fish" in my purse at all times. They also cut the sodium almost in half from other leading brands so you won't get that salty bloating that I am sure many are used to. Convenience alone makes this product worth its weight in gold and the taste is an extra added bonus.
Living in Los Angeles I have delicious sushi at almost every corner. Now I can always be prepared. Thanks Little Soya!
Miranda Jade Turbin
From our home to yours, Tina Turbin
If you have any questions or suggestions just email me at info (at) GlutenFreeHelp.info.