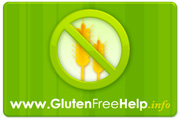 Gluten, a protein component of grains and cereals, is a common food allergen that poses a serious health risk to millions of Americans. It's estimated that one percent of the population has celiac disease (CD), an autoimmune reaction to gluten. The treatment for the disease is a simple and effective one—the gluten-free diet—but it can be quite a challenge. Fortunately, according to several reports, there is hope that a gluten-digesting enzyme may be soon be available as a new supplemental treatment option for celiacs.
According to Science Daily, an enzyme has been developed that can quickly break down entire gluten molecules almost completely and even the peptides that cause CD. The enzyme functions optimally in the environments like the human stomach and sixty times as quickly as an earlier enzyme.
Science Daily reported the optimistic outlook of a Netherlands researcher at Leiden
University Medical Center, Frits Koning, who was quoted as saying, "On the basis of our results, there now is a realistic chance that oral supplementation with an enzyme can ensure gluten degradation in the stomach before reaching the small intestine, where it causes problems for people with celiac disease."
Another study by Stanford University researchers produced hopeful results. According to Gluten Free Faces, the research team combined bacterial and barley enzymes and found in rats that when gluten was broken down, it ceased to have an inflammatory effect in the intestines. The San Carlos, California pharmaceutical company, Alvine Pharmaceuticals, has formulated a "glutenase therapy" for a Phase II clinical trial.
Additionally, Celiac.com has discussed a laboratory experiment, as published in the medical journal Gut, in which researchers recreated the environmental conditions of the human digestive tract; it was found that an isolated enzyme not only broke down wheat gluten and protein, but also eradicated the digestive tract's toxic response, which is characteristic of celiac disease. The research team was headed by Dr. C. Mitea from Leiden University Medical Center in the Netherlands. According to their published results, after 90 minutes, "the gluten proteins treated with the enzyme were undetectable, whereas those glutens not treated with the enzyme, remained in the stomach for at least two hours," as reported by Celiac.com. The gluten-digesting enzyme is known as prolyl endoprotease, and the team of researchers concluded that the next step is testing in order to verify the results. According to Celiac.com, "if a full-scale trial confirms the results, people with gluten intolerance and celiac disease might be able to safely stray from their strict gluten-free diets on occasion."
Despite the effectiveness of the gluten enzyme, enzyme therapy isn't intended to serve as a substitute for the gluten-free diet. If anything, celiacs will be able to eat out gluten-free without worrying about cross-contamination. Even so, this advancement should relieve some of the demands of eating gluten-free by eliminating the worries of cross-contamination, which can be a major source of anxiety and one of the biggest challenges of trying to live a "normal" life while seeking to one-hundred-percent eliminate gluten from the diet.
Tina Turbin
k.m.
Resources:
Science Daily: Celiac Success: New Enzyme Efficiently Degrades Gluten In 'Human Stomach' Environment
http://www.sciencedaily.com/releases/2006/06/060630083712.htm
Celiac.com: A Sweet Pill For Celiacs to Swallow? Progress on Enzyme Therapy for Celiac Disease  http://www.celiac.com/articles/21530/1/A-Sweet-Pill-For-Celiacs-to-Swallow-Progress-on-Enzyme-Therapy-for-Celiac-Disease/Page1.html
Gluten Free Faces: LA Times Article: New Hope for Celiac Disease Sufferers?
The Food Intolerance Consumer: Gluten Intolerance and Celiac Disease http://www.foodintol.com/celiac.asp
Gluten Free Help https://www.glutenfreehelp.info
From our home to yours, Tina Turbin
If you have any questions or suggestions just email me at info (at) GlutenFreeHelp.info.