These Multi-Seed Crackers have crunch, flavor, and perfectly accompany any slice of cheese or dip and are great simply plain. The Roasted Garlic was not unlike a garlic cracker I used to eat prior to being diagnosed with celiac disease. The Sweet Onion was light but the crunch was perfect with the flavor. The plain was not plain—it has a healthy flavor and variety of ingredients—and the Rosemary and Olive Oil—indeed delicious.
Crunchmaster takes pride in their East-meets-West fusion concept and incorporates the "Usuyaki" style ("thin and flat" in Japanese) with all-natural and gluten-free ingredients.
[youtube]http://www.youtube.com/watch?v=tRYMgQ4mabs[/youtube]
These crackers are loaded with quinoa, flax seeds, and amaranth. The assortment of ingredients they choose along with their baking method lends these crackers a true uniqueness.
Crunchmaster crackers are also low-sodium, cholesterol-free, certified gluten-free & 100% whole grain.  Select varieties are also sugar-free (yay!); dairy-free and vegan diet friendly.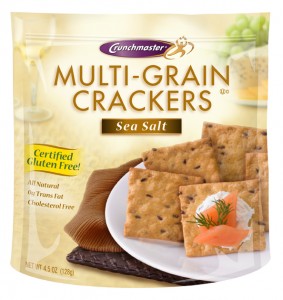 You can find these crackers all over the USA and Canada, in Costco and many grocery and health-food stores. You can also use their site to find a store close to you as well as send them a request or question on their contact page.
Their research chef, Taka Hotani, offers a gluten-free wild rice stuffing recipe using their Multi-Grain Cracker. There are a number of other recipes you will like but that one is out of this world.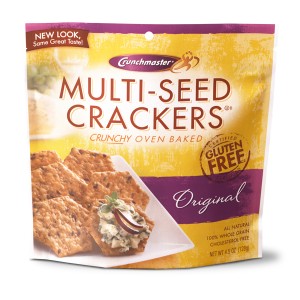 Watch the video review I did on these amazing crackers here.
Tina Turbin
www.glutenfreehelp.info.
From our home to yours, Tina Turbin
If you have any questions or suggestions just email me at info (at) GlutenFreeHelp.info.