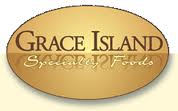 Grace Island Specialty Foods has a variety of gluten-free Baked Cheese Crisps. Each has a different flavor not due to just spices, but to the unique cheese selection in each cracker.
These crackers are paper-thin, oval in shape, and each flavor offers its own recipe, often with sesame seeds added. We liked these crackers but didn't love them. We were expecting more of a bursting, sharp flavor, and these were slightly on the light or bland side. With cheeses such as Romano, Parmesan, Swiss, and Asiago, these crackers needed a bit more kick. On the other hand, for any consumer seeking a good, un-salty, thin cheese cracker, these are ideal.
These are a good low-carb, high-protein snack (they add egg-whites), very thin but can be used for lighter weight dips and spreads. With eighteen little crackers offering a whopping ten grams of protein, they are ideal for someone on a restricted diet.
Kalista Johnson has created a different type of cracker than most by adding egg whites, sesame seeds, and various spices and herbs for a crispy snack. She now has a grain-free kitchen of her own and has made her business a family affair.
Tina Turbin
www.glutenfreehelp.info.
From our home to yours, Tina Turbin
If you have any questions or suggestions just email me at info (at) GlutenFreeHelp.info.