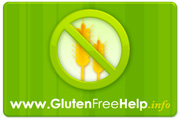 What is xanthan gum anyway? A fundamental gluten-free baking ingredient, xanthan gum appears in many of our store-bought gluten-free goodies and in our recipes, so it's about time you learn more about it!
Classified as a polysaccharide, a type of carbohydrate, xanthan gum is found in foods, cosmetics, and industrial substances. It is made through fermentation, by adding a bacteria strain (Xanthomonas campestris) to glucose or sucrose, usually in the form of corn sugar, turning it into gum. It is considered useful because of its thickening, stabilizing, and emulsifying properties. In other words, it greatly improves the texture of our gluten-free baked goods; without it, our products would be crumbly.
Xanthan gum can come in different forms, but mostly appears as a powder. Popular xanthan gum brands include Bob's Red Mill, Authentic Foods, Barry Farm, Satiaxane and NOW Foods. It's inexpensive and easy to find.
According to xanthangum.org, you can safely consume up to 15 g of xanthan gum per day and you should avoid it if you're pregnant, nursing, have appendicitis or intestinal narrowing symptoms, or if you'll be undergoing surgery in the next two weeks. Side effects vary from person to person.
A general guideline is 1 tsp of xanthan gum for every cup of GF flour.
Allergen Information
You should avoid xanthan gum if you're allergic to soy, corn, or other plant products that the bacterial strain can be added to in order to produce xanthan gum. Substitutes include guar gum, carrageenan, locust bean gum, gum Arabic, and gelatin.
Gluten-free cookbook author Connie Sarros recently shared her research about corn-free xanthan gum, which is currently being offered by Authentic Foods. According to Connie, xanthan gum is made only in two locations, in the U.S. and the China, and most of it comes from China. We have no way of knowing how xanthan gum is manufactured in China, but it's nearly half the price and is taking over the xanthan gum market.
Connie informed us that many people wrote to her that they have noted a change in the color of the xanthan gum they buy. It used to be white and is now grey, and they found out the reason for this is now they're using the gum imported from China. They reported that this xanthan gum isn't as effective.
She shares with us that the U.S.-grown xanthan gum is grown on cabbage with a glucose mixture, most often a corn sugar. Once it's grown, the corn sugar is washed off the gum and then this is pasteurized before the milling process in order to remove the bacteria. Authentic Foods has had their xanthan gum confirmed by Nebraska University to be completely corn-free, although this may not be the case much longer because the U.S.-grown gum will most likely be discontinued due to competition with China. Connie hasn't heard back from NOW and Bob's Red Mill to see which kind of gum they're using. Some people who are allergic to corn avoid all xanthan gum and use guar gum instead.
Miranda Jade Turbin
k.m.
From our home to yours, Tina Turbin
If you have any questions or suggestions just email me at info (at) GlutenFreeHelp.info.